If you're having a hard time finding your holiday cheer or just holiday'd out from the season in general, you're in luck! Trading out these traditional Christmas activities will have all of our bells properly jingling and give us the appropriate dash of festive feels — not an ounce of mistletoe or snow needed!
Skip Christmas music. Try ABBA.
If hearing another Christmas song will make you lose it, insert any other sounds that make you happy. I'd argue that ABBA discography is loaded with holiday music, but I don't have to because their Super Trouper album speaks for itself. Add "Happy New Year", "Our Last Summer", and "Andante Andante" to your anti-holiday holiday playlist and get those joyful feels going. I'm tempted to petition for "The Way Old Friends Do" to replace "Auld Lang Syne" at this point because it's truly perfect.
Skip hot cocoa. Try tea.
Spiced teas and ciders are the wayward children of holiday drinks and libations, and someone should fix it. In fact, we have a whole tea and book pairing list for you here to curl up and relax with.
Skip the Christmas movie marathon. Try a Harry Potter marathon instead.
Because they're really Christmas movies after all (and the cheesy rom-com sequels sucked this year). Also try this with any movies you haven't had time to re-watch because you've been working and busy all year. Treat yourself.
Skip decorating. Go look at rich people's decorations instead.
Some Christmas champion still found money, time, and energy to deck the halls and it spilled out onto their lawn; resulting in a ten-foot-tall inflatable Santa and light display set to Christmas tunes. So, go drive by a few of those instead of fussing with your tangled garland from two Christmases ago. No checking bulbs and tinsel for you, just basking in the glow of other people's candy cane lights. Love that for you.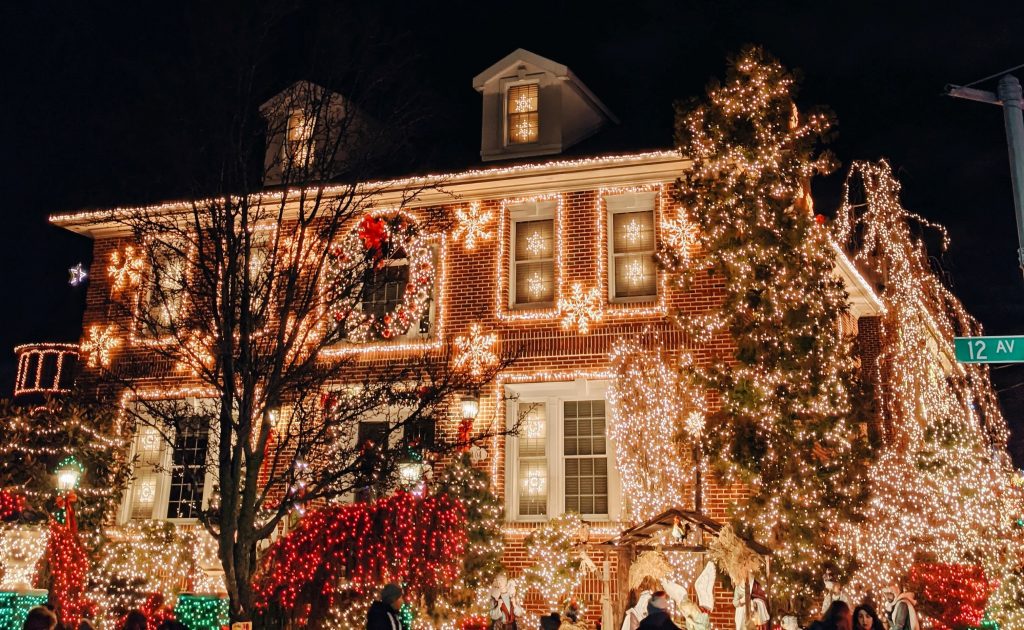 Skip gift shopping. Try letter writing.
Seriously, we don't write each other letters any more. Stores are germy and crowded and overpriced. Take that time to sit down with a pen and write your loved one a letter or card. Germ-free and thoughtful. For an extra dash of cheer, find some folks that are fundraising for necessities to give that money to instead. That's the spirit.
Skip the feast. Order pizza.
It worked for Kevin McCallister on Home Alone. Pick your one holiday must-have food item (and make it if you must) but let the rest be hassle-free. Holidays are about relaxing, too. Take a break from doing and get some delivery. Tip accordingly!
Skip the festive Christmas outfit. Curate a cozy PJs and slippers look.
Say it with me "PJs ARE my Christmas 'fit this year". Imagine how you want to look when the carolers come by or the packages of gifts you got for yourself arrive and go with that. Comfy, cozy, and cute. Something that says "I showered and brushed my teeth today", but that's it. Because we are relaxing this season.
Skip gift counting. Write a gratitude list instead.
While looking back on the year might bring some pain, you may find there's still a thing or two to be grateful for. (Hint: probably nothing anyone could wrap in a box with a bow). Switch it up and make a list of things that made you laugh or things you're looking forward to. Part of making the season joyful is being intentional about finding (or making) the joy.
No matter how this season or this year has gone for you, my sincerest hope is that you continue to find joy and merriment in the small moments and your own way to celebrate the big ones, too. However you choose to close out this year, I hope it fills you and fuels for the seasons to come.
Happy Holidays!
Header: freestocks
About Author