Like "Ghetto Superstar" giving "Islands in the Stream" a hip-hop makeover in 1998, the magic of transforming music continues to be a trend. It gives an updated take on the old, dressing it up in a new look and stretching its longevity. Reimagining music makes it possible for future generations to be introduced to tracks they may not otherwise know about, especially when they cross genres to reach a different audience. The following songs not only sample the tunes that came before, but really become their own thing; whether it's through fresh lyrics on top of a familiar melody or steering the original song a fast-moving vehicle into the modern day.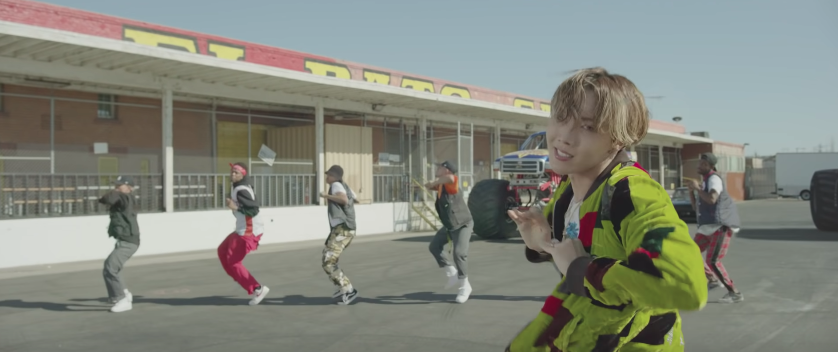 "Chicken Noodle Soup" – J-Hope feat. Becky G (2019)
Though the title and chorus are the same, don't confuse this 2019 version of "Chicken Noodle Soup" for a cover. The original track, done by DJ Webstar, Young B (Bianca Bonnie), and The Voice of Harlem; kicked off a dance trend that went viral in 2006. The song inspired two young entertainers before they were famous, who would create a reinterpreted variation thirteen years later.
"Chicken Noodle Soup" made a surprise comeback led by J-Hope, former street dancer and current 1/7th of superstar group BTS. Along with singer-songwriter (and former Power Ranger) Becky G, the rapper does a great job melding together old and new; preserving the song's catchy hook and chorus while updating the message found within. The song had been aimed to appear on J-Hope's 2018 mixtape, Hope World, with another artist on the track. After plans fell through, Becky G came into the picture and thus this collaboration was born. The video even names every background dancer who makes an appearance; paying respect to the art of dance and never forgetting your roots.

---
"Panini" – Lil Nas X (2019)
There are two types of paninis: One is a sandwich, and the other is a love-struck cartoon. You can guess which one we're talking about. Grammy Award winner Lil Nas X had an amazing ride on "Old Town Road;" fully embracing the quirkiness of his art and incorporating it into his musical vision from the supernatural to the sci-fi. "Panini," the follow-up single to the country-hip-hop hit, plays upon a reference to Panini of Cartoon Network's Chowder (2007-2010); infusing a sample of "In Bloom" by Nirvana for a double-mashup.
According to Lil Nas X in an interview with Apple Music, the use of "In Bloom" wasn't done on purpose. Because the melodies happened to be similar, it came together naturally, and even introduced the rapper to Nirvana's music. The Panini connection is a little less obvious, even if you've seen the food-fanatic series. Panini is a young cat who's head-over-heels for the show's titular character to the point of possessiveness; resulting in the recurring theme of Chowder reminding her that he's not her boyfriend. The song is commentary on the fanbase fickleness and the conflicting feelings that it causes for the artist. "Panini" reached #2 on Billboard's Hot R&B/Hip-Hop chart, and #5 on the Hot 100.

---
"Good Evening" – SHINee (2018)
SHINee's title track for The Story of Light Ep. 1 may sound familiar to lovers of '90's R&B. Between the 2016 album 1 of 1 and the 2018 release of The Story of Light, the K-pop group took a newtro approach to their sound, moving from 1980s-inspired music and visuals to a 1990s influence. "Cupid" by 112 was a Top 40 hit in 1997, in constant rotation on MTV when MTV still played music videos. The R&B song breathes new life through "Good Evening" as the catchy "Cupid" melody is used for the chorus of SHINee's EDM track. While the lyrics don't translate to those of the original, the vocals end on similar-sounding syllables so it's certainly close enough. It's a brilliant example of the transcendence of language between cultures, forming a connection through music.

---
"Uptown Funk" – Mark Ronson feat. Bruno Mars (2014)
"All Gold Everything" hadn't completely lost its luster before Mark Ronson arrived with Bruno Mars and "Uptown Funk" roughly two years after its release. The infectious pop tune takes inspiration from the verses of Trinidad James' hit; transforming their sound from low, slow, and measured to upbeat, jazzy, and full of sass. With its heavy play on the radio, it's no surprise this song reached #1; eventually topping both Billboard Hot 100 charts for the end of the year and the end of the 2010s. Chances are, you'd still know all the dance moves if this song started playing out of the blue. Don't believe me? Just watch!

---
"I Decided" – Solange (2008)
After her days as a Disney darling and before solidifying her position as an ethereal performance artist, Solange channeled the Motown songstress within for Sol-Angel and the Hadley St. Dreams. The album's lead single, "I Decided," draws from not one, but two 1960s classics: "Where Did Our Love Go" by The Supremes and "Heat Wave" by Martha and the Vandellas. The music video cites major events of the sixties, seventies, and eighties; complete with Solange and her backup dancers donning hair, makeup, and outfits in the style of rocking girl groups from back in the day. A remix by Freemasons entitled "I Decided, Part 2" carries the same old school vibe as the original with a Brit-pop spin, giving it a bouncier, showstopping rhythm and sound. "I Decided" peaked at #1 on Billboard's Hot Singles Sales chart.

---
"Candyman" – Christina Aguilera (2006)
Christina Aguilera has consistently blessed us with transformations each time she releases an album. 2006's Back to Basics era was notable for its glamorous bombshell aesthetic and sultry, soulful, "Find me at the back of this smoky bar" tunes. "Candyman" treats listeners to a livelier rhythm, casting a wink and a nod to the Andrews Sisters' "Boogie Woogie Bugle Boy." The exciting and provocative big band track combined Aguilera's larger-than-life vocals with the nostalgia of swing and jazz; even dropping a hint of what would come when the singer took the lead in the 2010 musical film, Burlesque. The platinum single earned Grammy and MTV VMA nominations, and went on to be covered by the Glee cast in what should have been a winning season for the show's fictional (and superior) show choir, The Troubletones.

---
"Gossip Folks" – Missy Elliott feat. Ludacris (2002)
Missy Elliott is a queen of twisting a tune into something new. Five years after "The Rain" paid homage to Ann Peebles, Missy teamed up with Ludacris to board the "Double Dutch Bus" by way of "Gossip Folks." The song, a cheeky response to ongoing public speculation of Elliott's life, incorporates a section of Frankie Smith's "Double Dutch Bus." The "-izz" and "-izzle" slang popularized in pop culture by rapper Snoop Dogg is a highlight of both Smith and Missy's singles, making it almost impossible to not have the songs stuck in your head after one listen. Its music video features numerous cameos, such as musicians Tweet, Eve, and Trina; along with a tribute to the late Lisa "Left Eye" Lopes of TLC, Run DMC's Jam Master Jay, and Aaliyah.

Samples and reinterpretations create possibilities to discover songs we've never heard or rediscover those we may have forgotten. It connects us to the artists we love through the art that moves us all. Whether it's a different decade, jumping genres, or crossing language barriers; music inspires and lives on.

About Author