Currently the world is going through a stressful and tumultuous time, and when that occurs, many seek comfort. Often, it's found in the form of food. For residents of Millburn, New Jersey, they frequently find themselves at the Millburn Deli when they want a taste of home.
Located in downtown Millburn, New Jersey is an iconic deli that has been serving townies since 1946. It isn't unusual to see a line out the door during lunch time on any given day; and it's often the first place college students go to eat when they're on a break from university.
Once you step inside the unassuming building, you're greeted by colorful handwritten menus, cheeky decorations and vintage signs.
After you take a number and wade through the crowd of hungry people, the efficient and cheerful staff eagerly wait to take your order. Many staff members have been working there for years; and you might be surprised to find they remember your usual order. During warmer months, outside tables are packed but if you catch yourself there on a rainy day, the deli offers an indoor dining area.
Their menu includes an endless variety of sandwiches, salads, sides, and wraps (and you cannot forget their signature homemade iced tea). When asked what the most popular sandwich is, the answer is unanimous: The Godfadda. This sandwich features a chicken cutlet, mozzarella cheese, bacon and homemade Russian served on a pressed sub roll. If that's not your thing, their famous NJ-style Sloppy Joe — featuring the deli meat of your choice, coleslaw, and fresh rye bread — might be right up your alley.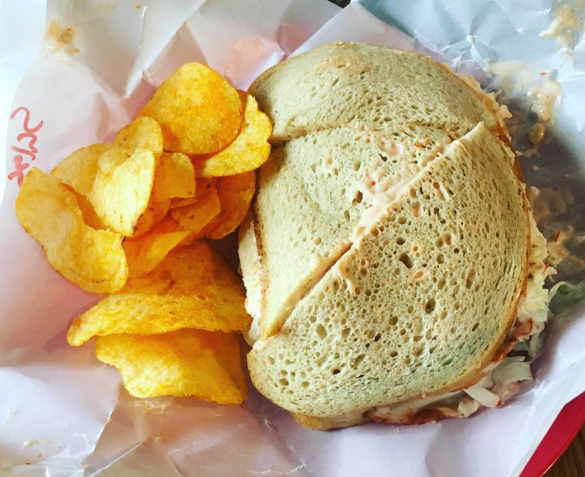 The Millburn Deli has been featured in Spoon University's and Thrillist's lists of Best Sandwiches. It's even been enjoyed by many famous figures including retired Giants QB Eli Manning. Fortunately for hungry readers, they ship sandwiches all over the United States. Locals know that a visit to their town is incomplete without stopping for a bite to eat at the Millburn Deli!
Header: Millburn Deli (X)
About the Author