June 28, 2020 marked the 51st anniversary of the Stonewall Riots, an event that put the rights of LGBTQIA+ people on the forefront in a fight against oppression and inequality. This moment in history was pivotal. Led by Marsha P. Johnson, a Black trans woman, and gay liberation activist Sylvia Rivera; people took to the streets in the very first Pride march in 1969 so the world could hear their battle cry.
Five decades later, photographer Alyssa Blumstein hit the streets — camera in tow — to commemorate the colorfully-clad attendees of New York's 2019 Pride and Dyke March. The result is the People of the Pride Parade photobook, a 160-page visual love letter to the LGBTQIA+ community in all their unabashed glory.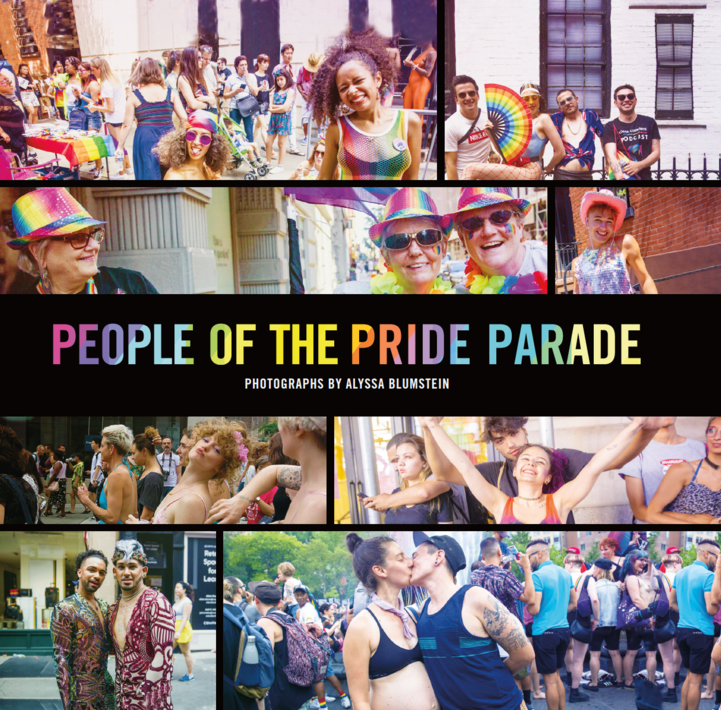 People of the Pride Parade
The full-color book opens with a preface that briefly lays it all out from the beginning: the violent police raid, the fight for equality, heartbreaking injustices; and how this path led to the extravagant celebration we know today. The 50th anniversary of Pride was its biggest event to-date as the march led through the streets of New York, from Fifth Ave. through the Village, to where everything changed: Stonewall.
Blumstein's photos are a beautiful tribute to Pride and a striking reminder that it all started from a protest. While civil rights for LGBTQIA+ individuals have made huge strides over the years, the fight continues to this day. As protests for the Black Lives Matter movement continue day in and day out against police brutality, it's important to remember that these are not only the lives of cis-, hetero- Black people that demand protection; but also those who are gay, lesbian, trans, and more. In fact, marches for Black trans lives have gained momentum; and the numbers in support are steadily growing.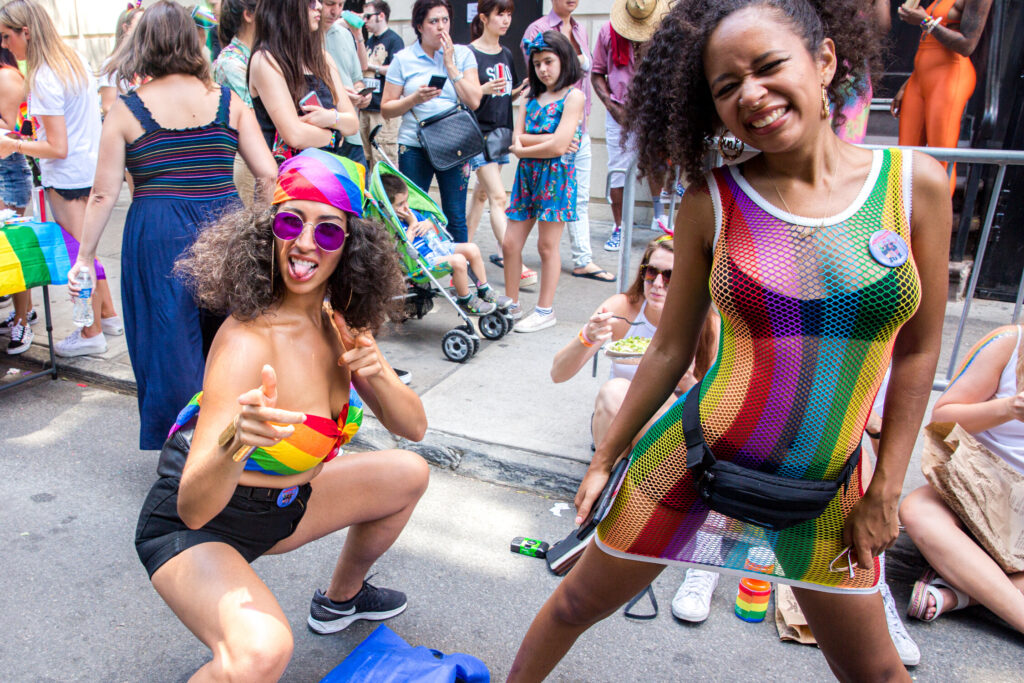 Pride Parade is a Rainbow Dream
In People of the Pride Parade, Blumstein captures the LGBTQIA+ community in its truest form: diverse, sparkling, packed with rainbows, and filled with the insurmountable audacity to shamelessly be themselves. Images range from alluring portraits to moments of gladness to sign after sign declaring the right to exist. Various ages, ethnicities, sexualities, gender identities, and fashion choices all come together under the common goal of LOVE and equal rights.
With each page turned, a different face appears, just as dynamic as the last. Attendees make New York their playground; whether it's climbing atop the lights at a crosswalk or twerking while surrounded by friends. Flags of all identities fly proudly, same-sex couples kiss freely; and groups of "found families" show off pregnancies, pets, and poses for the camera. Blumstein's still images are packed with life and a vivid memory of life pre-social-distancing that make us look forward even more to the days we can once again come together for Pride. Until then, pick up a copy of People of the Pride Parade to peruse for yourself and dream in technicolor.
---
From the Publisher
For the 50th anniversary of the Pride March comes PEOPLE OF THE PRIDE PARADE (Apollo Publishers), a visual celebration of the diverse, vibrant, and exuberant attendees of New York City's Pride.
This gorgeous, bright book honors the colorful celebrants of the New York City Pride March and Dyke March; capturing the faces that bring the rainbows and liveliness Pride shines with today. Through joyful portraits of two hundred LGBTQ+ community members and allies from New York City's WorldPride, this is a resplendent one-of-a-kind volume; a portal to the spirit, sequins, and sexual liberty of the weekend; a keepsake tribute to the power of love over hate; and a meaningful touchstone; immortalizing the effervescence, excitement, and positive energy of those who attend.
About the Author
Alyssa Blumstein has been a professional photographer for the past decade, working in both Boston and New York City. Her vibrant work celebrates people and events. She is also a food photographer who worked as the director of social media for Dale Talde's Three Kings Restaurant Group. Alyssa's Slop Bucket series of photographs, offering an original take on restaurants' food scraps and drink dregs; has been featured on DNAInfo, Viewing NYC, and Love & Victory. Her photo series Printers are the Weakest Link, documenting hundreds of abandoned printers she's photographed around the world; has been featured on media such as Vice's Motherboard. Alyssa's work is viewable on her website, alyssablumstein.com, and Instagram. Alyssa currently lives in Boston.
Cover Image from People of the Pride Parade (Alyssa Blumstein – Apollo Publishers)
About Author