Here's to the Class of 2020!
The season of senior festivities has arrived! May and June of every year is known as graduation season, a time of proms, formals, and celebrating the achievements of seniors; passing them onto their next stage of life.
If you're part of the Class of 2020, like me, you understand the struggles of being a senior in this time. No one knew that we would be ending our year like this; having the traditional end-of-school-year festivities cancelled due to a deadly pandemic. Even after the last few months of classes were moved entirely remote, optimistically we had hope that we might be able to enjoy some senior activities. However, those hopes for in-person proms and graduations diminished with time – until they were ultimately cancelled.
Our senior year has been far from normal.
It was nothing like we imagined or dreamt about growing up.
Since we were young, high school movies, shows, and stories had us picturing a perfect senior year. For many, high school and college graduations are very important and special accomplishments, especially for first generation students. These big checkpoints in life are a time to commemorate all the hard work put in throughout the years to get to where we are today; but they were taken away unexpectedly by an even bigger problem.
In order to help seniors celebrate, many virtual events were created to replace the physical events. Some feel that these are not the same or even enough. Hearts are in despair due to the inability to be with friends in the last few months of school. On the surface, it may even seem as if all that hard work was for "nothing" as this was one of the final destinations to solidify it all. Though they may not fill what was lost completely, these online senior festivities have become the "new normal" – and something we must work with.
The Class of 2020 will go down forever in history.
Virtual commencements and activities are something we have never experienced before on this level. Prior to graduation, we saw a string of Internet proms. People simply wore their prom dresses and other attire in front of a camera, and listened to makeshift playlists. Many hosted their own virtual prom with their friends; and larger platforms such as Teen Vogue, Jubilee, and MTV also hosted proms of their own for teenagers across the nation.
Although some seniors had homemade in-person graduations, most have and will graduate online. Many celebrities and public figures who sympathize with the loss of these special traditions have made cameos congratulating the Class of 2020 in virtual graduations. Arguably, the most talked about commencement is coming up on June 7 at 3:00 p.m. EST.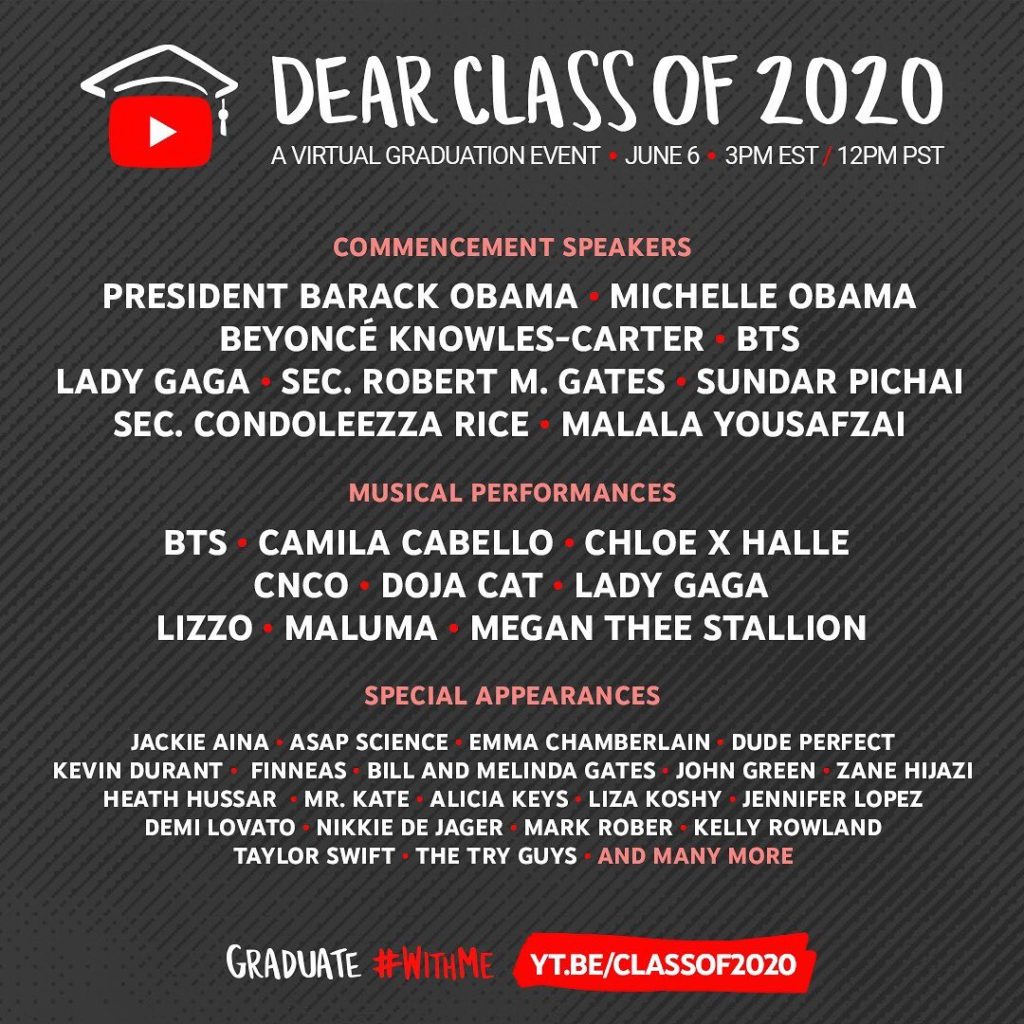 Dear Class of 2020…
YouTube's "Dear Class of 2020" will have speeches from the former president and first lady, Barack and Michelle Obama; and features other speakers such as BTS, Beyonce, Lady Gaga, Malala Yousafzi and many more. There will also be a handful of musical performances from your favorite artists. If you're part of or related to a member of the Class of 2020, be sure to check it out!
As we sulk about the loss of senior year, it is by far not the biggest problem. The "new normal" has shown a sense of community we've created through our society's adaptation to a pandemic and other world events. These virtual measures, though not ideal, are a considerate thought to grant some sort of celebration. While it's nice that celebrities and public figures are paying tribute to our cancelled events, it's okay to remember that it's not the same. You have a right to be upset. Let's stand together united as a class to get through it all; looking hopefully to a brighter future where the world doesn't feel like it's falling apart.
Here's to the Class of 2020, the first class of seniors to ever graduate remotely on this grand of a scale!
Cover Image: Jasmine Coro
About Author