If you haven't heard Boys World yet, it's time to put them on your playlists. The pop quintet from KYN Entertainment formed in 2019 and has been on the scene since 2020; releasing a chain of infectious singles that channel confidence, independence, and the complex dynamics of relationships. Their debut EP, While You Were Out, was digitally released on streaming services on April 9.
You've caught on by now that five-member Boys World is a group of young women (Elana Caceres, Lillian Kay, Olivia Ruby, Makhyli Simpson, and Queenie Mae). The irony is purposeful, but there's a larger meaning behind it. "Boys" is an acronym for "Best of Yourself" and "World" is acknowledgement of the group's global reach and impact. They've been accessible worldwide from the beginning. First, being discovered individually on social media; and then building an audience through song covers and original content on YouTube and TikTok even before the drop of their first single, "Girlfriends".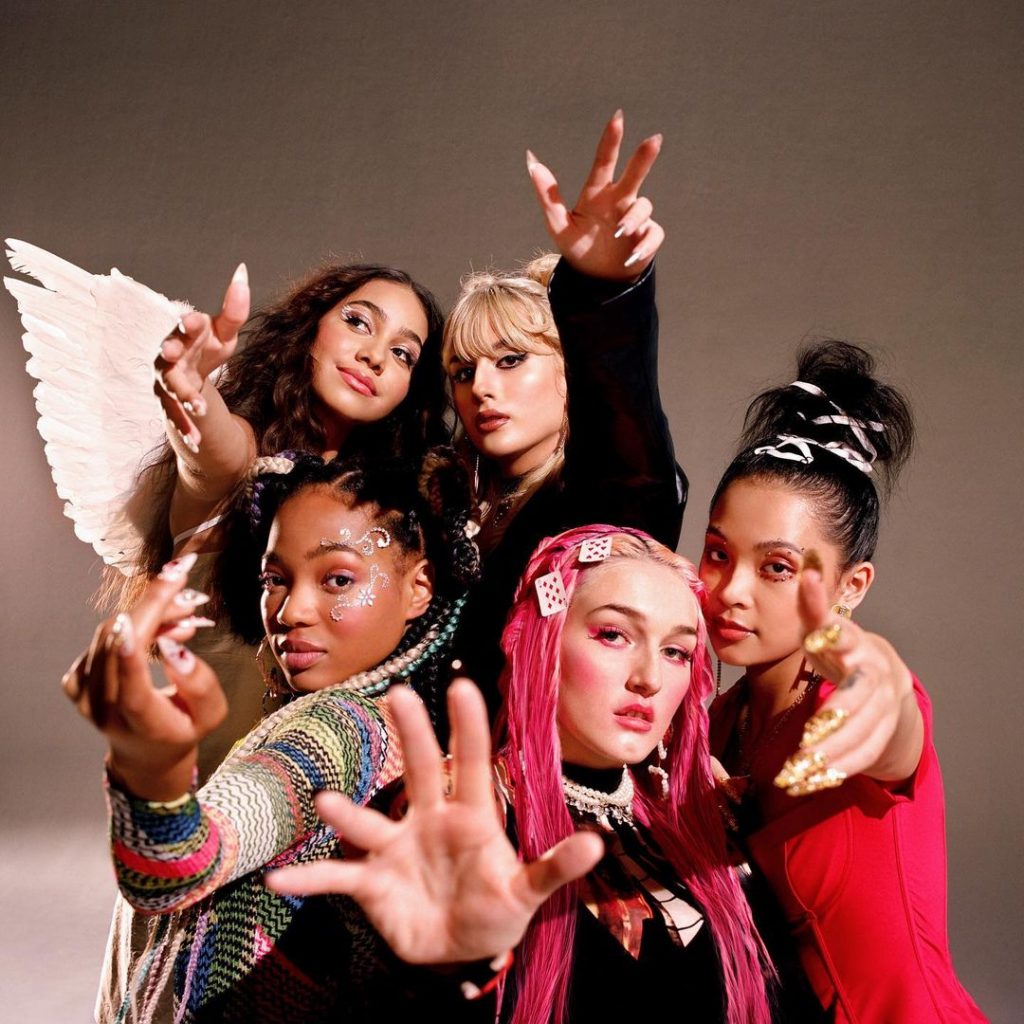 Executive-produced by the multitalented Tayla Parx, While You Were Out is the perfect introduction to Boys World. It's well-rounded and concise, giving a sound sampler of what the girls can do then leaving listeners wanting more. The five-track EP opens with "Girlfriends"; an upbeat girl power anthem that sets the tone for the energy Boys World brings.
As a life-long fan of girl groups, it was immediately apparent that this group was not to be overlooked. The opening scene and overall vibe brought me back to my own teenage years, and once the dancing kicked in, I got chills. It's the kind of music my girls and I would get excited about; singing together, learning the choreography, and eventually busting it out at a talent show or two. It's that good.
Boys World takes everything we love about modern girl groups and brings it into the present.
Oozing independence and self-reliance, "Wingman" is Boys World's second single and the second track on While You Were Out. It's also the song to listen to if you want to learn each of their voices quickly. The heavy-hitting, funk groove blends well with their jazzy vocals; and you can hear the distinctiveness of their five voices that sound just as good together as they do separately.
"Tiptoe", the third track released ahead of the EP, shows yet another side of Boys World as rap joins the mix. Its haunting trap composition complements the mystery as they tackle relationship dynamics head-on; calling out an almost-partner who won't commit. Fourth track "Relapse" is the first original ballad from the group, and a dip into vulnerability as they speak on the relatable emotions that come with not quite being able to let go of an ill-fitted relationship. In "Touched by an Angel", self-worth is energetically reclaimed, closing out the EP on a high note.
From beginning to end, While You Were Out tells a story common to many relationships, and does so in a way that's youthful, nostalgic, and refreshing. There's a song to fit every mood, and no matter how young or old you feel, there's an emotional realness on the EP that makes it extremely easy to connect to the lyrics.
With such a strong start, it will be exciting to see where the group goes moving forward. This is only the beginning for these stars on the rise, and we can't wait to be a part of their sparkling world.
Boys World performed While You Were Out in full at their first livestream concert on April 23, which featured interviews and games along with the music. The group also dropped a sneak peek of their upcoming video for "Relapse," which you can watch here!
Have you listened to While You Were Out? Share your thoughts below!
Header: Boys World (KYN Entertainment; Instagram)
About the Author