In a time when many people are stressed and overwhelmed, it's important to practice self-care, even in little ways. Some prefer to disconnect, some turn to video games, and others waste time online. Whatever the method may be, making time to take care of yourself is invaluable. If you're anything like me, seeing photos and videos of cute cats and their entertaining antics instantly puts you in a better mood. And I'm not alone. There's a long list of cat Instagram accounts that were made to give you a laugh or simply make you smile. I'm talking so many that it could be a bit overwhelming to try to pick out a few to follow.
Fortunately, if you don't know where to start, then you've come to the right place! I've rounded up some must-see cat-themed Instagram pages that you should definitely check out if you're a cat person. Enjoy!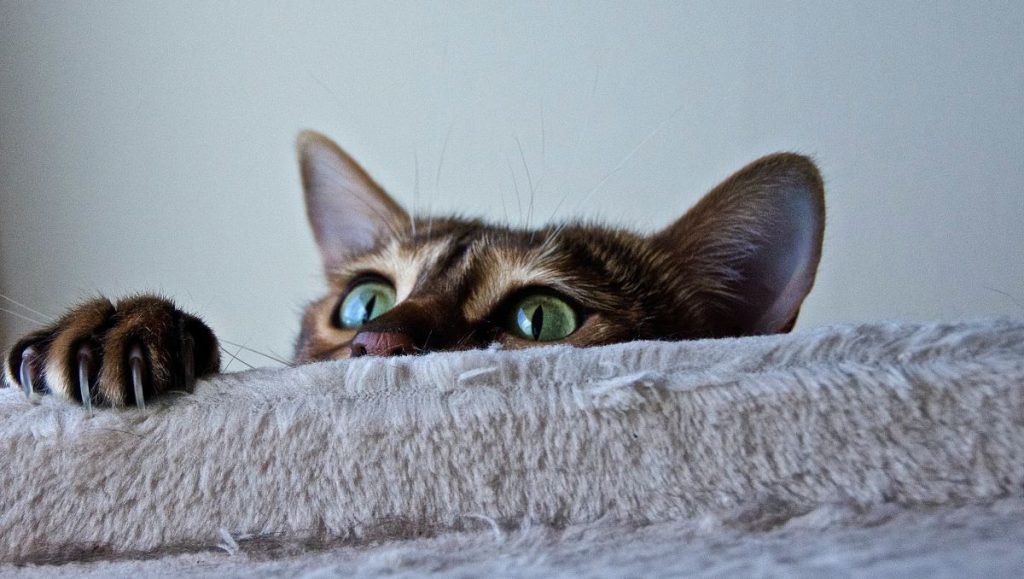 Catwheezie
On Catwheezie, illustator Emily Paquin creates original, realistic drawings of cats making funny faces or in interesting situations. In one drawing, a cat doesn't look too happy being dressed like an Easter bunny; in another, the cat appears to be a hardcore gamer. Another drawing shows a cat staring down a model skeleton, and there's so much more!
The colorful drawings are based on photos submitted to the account, and each post has both the drawing and the photo so you can compare the two. These cat drawings will be sure to put a smile on your face while you marvel at Paquin's talent of capturing the personalities of these adorable felines.
Instagram: @catwheezie
Black Kitty Crew
It's an old superstition that black cats are evil or bring bad luck. As an owner of a black cat myself, I can assure you that that couldn't be further from the truth! If you love black cats, then you'll definitely want to check out this Instagram account just for photos of black cats.
From kittens to adults and long-haired to short-haired cats, Black Kitty Crew posts all kinds of adorable black cats. They usually post a few times per day, so you can check the account often for new pictures.
Instagram: @blackkittycrew
メイリン⋈*。 (Meirin)
Mei and Rin are the stars of this stylish cat Instagram account from Japan. It features the pair of felines, sometimes alone and sometimes together, in a variety of environments and clothing that range from whimiscal to elegant. With bright lighting, colorful props, and even Japanese traditions, the many adventures of Mei and Rin are a cat lover's dream.
Instagram: @meichan818
Bodega Cats
Most stores don't let cats inside, but bodegas in New York are a little different. Bodega Cats shows cats living their best life, perched on a stack of beer bottle cartons or sitting inside a shopping basket. This account will make you feel like you're taking a quick trip to NYC — plus you get to see lots of funny, cute cats. That's a win-win if you ask me!
Instagram: @bodegacatsofinstagram
HONEY
Take a look at the fabulous world of Priness Honey Belle (and her brothers!). Chances are, you've seen them already if you've spent any time at all watching cat videos on social media. This account is the home of the popular cat chef videos in which they paw-fectly prepare desserts and drinks from cupcakes to coffee. In addition to glam photos and delicious food, this account also shares tips for taking care of cats as well as fun facts and recipes.
Instagram: @princesshoneybelle
Cats Doing Things
If you're in need of a laugh, Cats Doing Things has you covered. The account posts a variety of funny user-submitted cat memes and videos multiple times a day. There are thousands of posts for you to scroll through, so if you need a kitty distraction to pass the time, it doesn't get much better than this.
Instagram: @catsdoingthings
lilochipie
Meet Lilo, an adorable little black-and-white cat with a lot of attitude. As the only survivor of a litter of three, she's considered small for her age. However, that doesn't stop her from getting into big fun. The account is a document of Lilo's life at home as she grows up. It features lots of photos and videos that will make you laugh out loud, including Lilo lounging, playing, and riding robot vacuums.
Instagram: @lilochipie
poorly drawn cats
Since 2016, Heloísa Nora has been drawing cat line art that captures the essence of catdom. From kitty paws to cats in spaceships, there's a wide range of portraits you're bound to see and enjoy. Many of the doodles are based on actual pictures that you can swipe to see. You might even recognize some of the art from popular memes. If scrolling through the cat drawings on Instagram isn't enough, you can visit the poorly drawn cats website for merch, information on commissions, and more.
Instagram: @poorlycatdraw
xhyo3catsx
Korean singer Hyolyn has an Instagram account dedicated to her cats — Rino, Simba, and Lego — that's too cute to pass up. There are hundreds of photos, and each cat even has their own dedicated highlight story, too. Hyolyn occasionally pops up in a few of the pictures, but make no mistake: Here, her cats are the stars.
Instagram: @xhyo3catsx
Meow Memes
Meow Memes is a hub for hilarious and adorable cat pictures on Instagram. The account posts themed slideshows of user-submitted photos from lion manes to cats in costume. They post somewhat sporadically, but there's plenty to check out in the meantime.
Instagram: @best_meow_memes
Header: Raul Varzar
About Author