When global pop group BTS announced the start of their second chapter last summer, what to expect was anyone's guess. The shift in focus to each members' solo work naturally stirred up excitement, and the rollout to date has been nothing short of phenomenal. J-Hope's Jack in the Box and subsequent appearance as a Lollapalooza headliner opened the group's Chapter Two in July 2022. "The Astronaut" single from Jin, Indigo by RM, FACE by Jimin, and D-DAY by SUGA (a.k.a Agust D) followed. Title after title and event after event has beautifully showcased where each artist is musically in that moment, and reveals the individuality that contributes to the synergy that makes BTS work so well as a whole.

Almost a year to the date after Jack in the Box, another song joined the lineup of BTS' solo projects. This time, it's "Seven," a smooth summer single from vocalist Jungkook that marks an era of growth for the group's youngest member. It also earned him his first solo #1 single on Billboard's Hot 100, Global 200, and Global 200 (excluding United States) charts. Following "Seven," Jungkook expects to release his debut solo album later this year.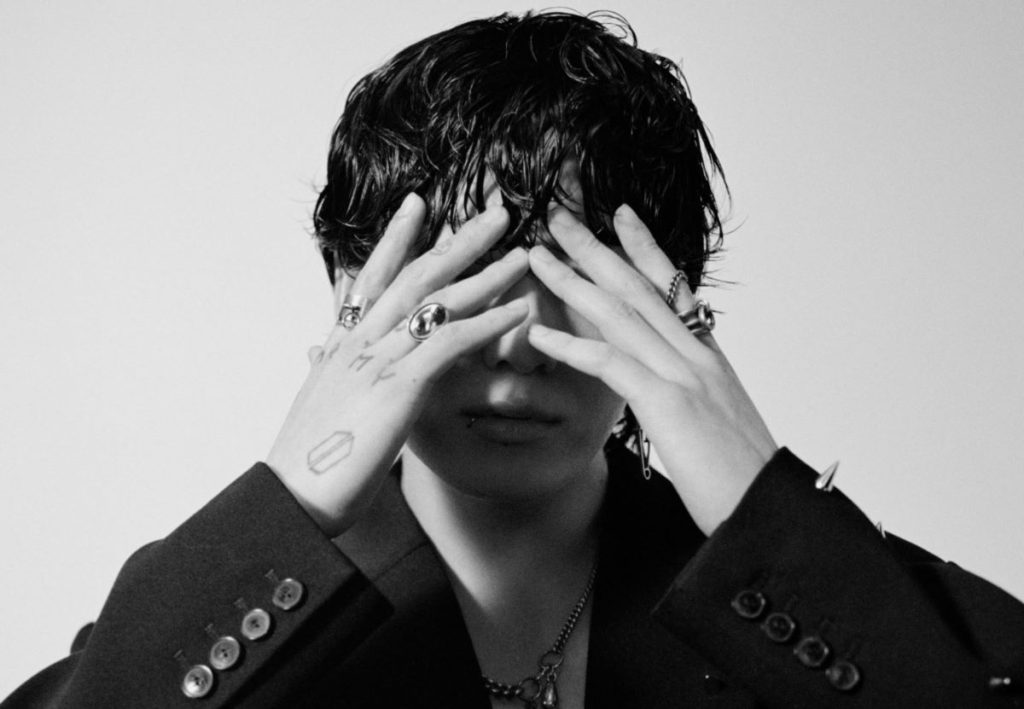 Sounding Off on "Seven"
THE FACTS
According to BIGHIT, "Seven' is an invigorating summer song that is sure to have you experience the full breadth of Jungkook's charm." Performed entirely in English, the song combines elements of house music, R&B, electronica, and dance pop to create the UK Garage sound. It also carries a bright yet steamy vibe that fits snugly into the heated peak of the season. Andrew Watt, Cirkut, Jon Bellion, and Theron Thomas wrote the track; and Watt and Cirkut produced it in Los Angeles.
The single features rapper Latto, who has a songwriting credit on the track as well. "I was looking for a rapper who could fit well with the song," Jungkook says in a Weverse live in celebration of the release. "I thought Latto would be a great match and so we contacted her. She gladly accepted our request and that's why [the] music video and song came out great."
In the same livestream, Jungkook expresses gratitude towards actress Han So-hee (Soundtrack #1, Nevertheless), who stars opposite him in the music video. "She really helped me a lot during the music video shooting. At first, I wondered how I should be doing this. When the camera started rolling, she acted so well," he says, adding that he was able to lean on her for guidance. "She really helped me to do well. I really wanted to thank her for that."
THE FEELINGS
Having not fully recovered from the beautiful deception otherwise known as the "Blood, Sweat, and Tears" trailer, I tend to hold a little skepticism around a Big Hit teaser actually sounding like the song. However, "Seven" was an exact hint of what was to come. It didn't take more than the teaser to know that the single was an excellent vehicle for Jungkook, and hearing the full track confirmed my immediate thoughts. "Seven" is catchy, romantic, audacious, and hyperbolic; all of which make a irresistible recipe for a classic love song.
In "Seven," Jungkook leans slightly away from his usual singing style by using a fuller tone and less vibrato to emit a signature pop sound. His ad libs are longing in the best way, upping the yearning to stay close to the object of his affection, regardless of how shameless he looks. Latto couldn't have been a better fit for the "Seven" feature. She means business when she drops in, and maintains a sultry playfulness that captures the spirit of the track. The confident energy in Latto's voice is complementary to the bounce in the beat, and her verse matches well with the song's overall infectiousness — and innuendos.
The "Seven" music video is a cinematically chaotic mix of drama, fantasy, action, and humor as Jungkook plays moth to Han So-hee's flame.
As buildings crumble and elements of nature work against them, the pair exists in their own bubble. It illustrates Jungkook's unwavering desire as he does all he can to win her over with his charm, his love, and endearingly, his prowess in bed. Additionally, the video conveys Jungkook's sense of humor in its laugh-out-loud moments. Without giving too much away, Latto looks drop dead gorgeous and Han So-hee plays her role in perfect contrast to Jungkook's pining.
One of the biggest surprises about "Seven" was what it meant to have an explicit version. Before the song dropped, it was easy to assume that, like other BTS solo releases, there would be a sprinkle of swearing to emphasize a point. However, for "Seven," the swap of "loving you right" to "f**king you right," not only emphasizes a point, it clears up its interpretation to full transparency. I can't say that this is the first time we've seen Jungkook explore his flirty, spicy side; but this new expression of his Grown and Sexy is a good look on him.
What I love about Jungkook is that he's a singer who genuinely loves to sing. It consistently shines through, whether he's alone or with BTS. In the behind-the-scenes footage of the "Seven" studio recording, he even says that, over time, he'd like to try as many genres as he can to further expand his vocal versatility. Being so open and willing to try for the sake of his growth as a performer is admirable, and makes me that much more excited to see what he rolls out next.
For more about Jungkook, "Seven," and the making of the single, check out: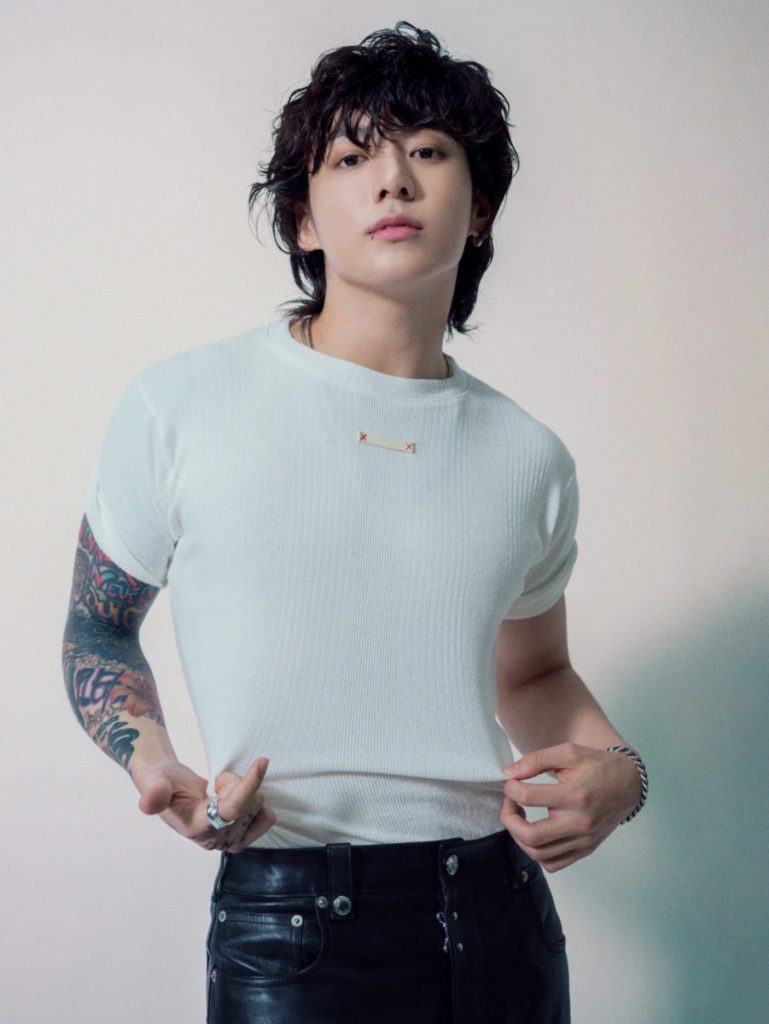 The Road to Growing Confidence
During Jungkook's "Seven" promotions, it was hard to miss the ever-blossoming of his confidence. It's a conscious effort — as he's often described as soft-spoken and shy — that he openly embraced with the support of his group mates, fanbase, and others around him. It's not exactly a surprising or sudden shift. He's always shown glimpses of his style, even in times when he wasn't able to fully express it.
A memory of Jungkook that's stuck with me for years is when he talked about growing up in an unreleased clip from American Hustle Life in 2014. In his musings, he mentions wanting a tattoo someday, and though Suga lovingly scolds him a bit, 16-year-old Jungkook is sure that "If they love us, they won't mind." (He's right.) Before the clip ends, he reaffirms that he's looking forward to adulthood and says, "I want to do everything that I have in mind."
At 25, with a drivers' license, more piercings, and plenty of tattoos, he's well on his way to becoming the version of himself he talked about and so much more.
In terms of "Seven," Jungkook has spoken a lot about wrangling his fears and approaching the experience with courage. The song is a new direction for the BTS singer, and not because the group hasn't produced music that contains swearing or references to love and sex. What's different is how straightforward the song is in its lyrics and intent. In addition to that, it's sung in English, which led Jungkook to be mindful about factors he wouldn't consider as much in his primary language. As mentioned earlier, he also sings "Seven" in a style that varies from his norm. All of that on top of showing a different side as a soloist is enough to rouse anyone's nerves. A constant, however, is that he knew as soon as he heard the song that he wanted to do it.
"'Seven' wasn't something I planned in advance … Producer Bang Si-hyuk just played it for me, and it was so good, I said, 'Oh, I definitely have to do this one,'" Jungkook says in an interview with Weverse Magazine. He credits his innate ability to go with his gut as the reason for selecting it, further explaining that instinct led him to choose the song as well as the type of promotions it would have. "What's amazing is that it doesn't matter what genre a song is — if it's good, it's good," he says. "Of course, it's possible I release a song just because I like it but it doesn't get that great of a response, but that's never happened. I think I've been living that way all along."
"I think now I'm more systematic when it comes to listening to my instincts, whereas my instincts used to come from a place of not knowing anything at all. So, I want to do the things I'm drawn to and not overthink it." — Jungkook, Weverse Magazine
Though unintentional, from his honesty emerges a powerful message about not having it all "figured out" and trusting yourself enough to try anyway. Whether you're a global pop star, a student, or working a survival job, it's not uncommon to still be finding your way in your twenties, despite what the media tries to portray. It's an ongoing process that continues through your thirties, forties, fifties, and so forth. Life transforms, opportunities and experiences arise, and we move (or don't move) accordingly. C'est la vie.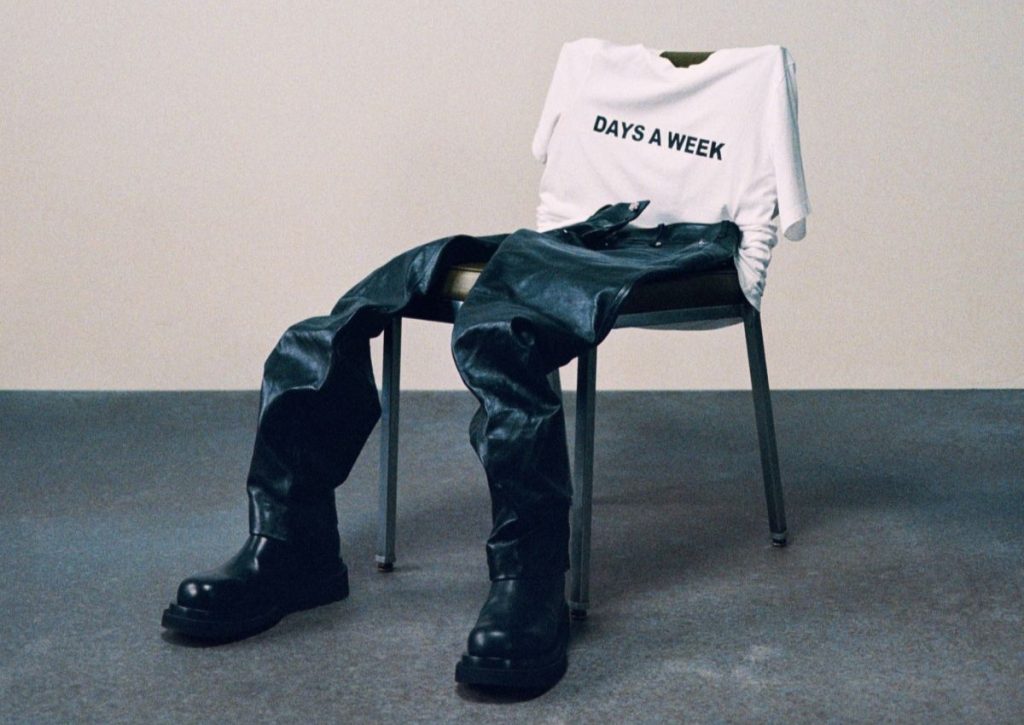 The Importance of "Seven" — In His Own Words
For Jungkook, the production of "Seven" was experimentative journey. While he admits that he had to push himself to do it, it seems the confidence to do so wasn't too far out of reach. It's best illustrated in his considerate and gracious response to a viewer about the explicit version of "Seven" during a Weverse live. (To watch in full context, click here and jump to 21:30)
Fan: Loving you and making love is not the same thing. As a Western artist, what is the reason for making a dirty version?
JK*: "Why do you think that's dirty? It's an explicit version. It's just being honest. Does everyone feel different about it? Yes, I'm sure they do. If you felt like that, there's nothing I can do … I really thought a lot between the two: Which version should I release? I thought a lot about it. The choice in the beginning was to release both … When I release the clean version, the interpretations by people are going to be different. And people who interpret the explicit version is various, too. But I thought both of them would be so much fun. And if you think about it, how old am I? How many years has it been since I debuted?"
"Unless I show something new like this, unless I show something new with my own will, I can't be acknowledged. This is something only I can do. Do you know what I mean? … My image is the youngest member. Compared to other idols, I'm not the youngest. Of course, I'm not. But there is an image. You really like that about me. Pretend that people like that and I only follow that. What's something I can change? Myself. It's my life. I need to change. And I need to tell the people who love me, 'I am like this.' I'm not forcing anyone … Even if I realize all the needs and do it, will ARMY and I be happy? Until the end? There's nothing that changes."
"I always look for something new. I want to make that new thing fun. And I want to be accepted by ARMY at the same time."
"I had a lot of fear. I had a lot of fear in trying new things, too. I didn't really want to try it, either. But this is something all of you made … I got so much courage from all of you, really. I said in a recent live show, 'Why do you cheer and love me?' Because I didn't know up until then. I didn't know and that's why I asked you. But now, I don't want to show that weak self to all of you. I got the confidence. I want to use that and make myself. But you might be uncomfortable. So, I need to adjust myself in a lot of ways there. Because it's not me. I'm not alone. I'm with all of you."
Jungkook goes on to candidly explain that he would like there to be more authentic conversation with ARMY (within reason). However, he's aware it takes some getting used to. "…in this process, someone gets stressed out and someone can get hurt … I want to make sure no one gets hurt. But life is about making me happy or making others happy. It doesn't happen while it's one-sided. You should all know. You all know. So, I'm just saying to have fun within that."
"As a man who's 25 years old, I'm just speaking in front of people who love me. It might be all over the place … I don't know what's going to happen, but let's just have fun … Since you're all cheering for me. I think it's right for me to repay you in that aspect. But that repayment is not one-sided. I want to do it together. Do you know what I mean? I hope this reaches all the ARMY in the world."
*Note: Translation edited for brevity and clarity.
Jungkook Seven Ways
If you're new to Jungkook (or just want to relive some of his best moments), here are 7 to check out any day of the week:
Header: BIGHIT MUSIC (Weverse)
About Author