If there's one occasion we love at offcultured, it's Halloween. What other time of the year do you get to play dress up, eat tons of candy, and get scared for fun? It's seems that when October hits, Halloween arrives long before the 31st. From parties to escape rooms to fall festivals, there's no shortage of things to do. Also, when you aren't limited to the events in your backyard, the possibilities for Halloween activities grows exponentially. So, if you're looking for events to check out during the month of October, have we got one for you! Coming back for it's third year at Bethel Woods, the historic site of 1969's Woodstock, is the Peace, Love, & Pumpkins Experience.
Decades after the music festival that rocked the nation, Bethel Woods Center of the Arts is still going strong today. The non-profit cultural organization hosts a variety of programs and events to keep the arts alive. Peace, Love & Pumpkins highlights the beauty of the Bethel Woods grounds while providing an immersive experience for Halloween lovers of all ages.
---
What to Know About Peace, Love & Pumpkins
This year, Peace, Love, & Pumpkins takes place October 13-29, leaving you free for any parties or trick-or-treating on the big day. The event runs nightly from 6:30-10:00 p.m. with the last entry at 9:00 p.m. If you arrive early, there are a few benefits. First, you can take advantage of early bird pricing. Second, if you so choose, you can visit the Museum at Bethel Woods that explores the legendary 1969 Woodstock Music and Art Fair. Visiting the museum also helps to preserve the event site for years to come.
Peace, Love, & Pumpkins attendees will take part in a Halloween-themed walk-through that features thousands of unique hand-carved, glowing art displays, and whimsical garden trails. Themed areas include Halloween classics, dinosaurs, mermaids, witches, and as a nod to the location's historic legacy: Woodstock festival icons. Mid-way through the walk, you can even stop for a warm drink and other treats by the fireside. There's also a live music line-up from 7:00-9:00 p.m. on weekends that includes Shane Rennison, Ursula Hansberry, and more. In addition to the main event, visitors can opt-in for add-on experiences that range from crafts for kids to tasty Halloween spirits for adults. And if you really want a good scare, the frights are leveled up for two nights of the month for the especially daring.
Price: $23 for adults; $13 for youth (ages 3-17); and free for children 2 and under.
Additional Perks:
Trick-or-Treat Bag for 4 available to purchase
Discounted admission to main exhibit at the Museum at Bethel Woods after 5:00 p.m.*
Discounted Peace, Love & Pumpkins tickets for students with valid student ID on Tuesdays*
Discounted Peace, Love & Pumpkins tickets on Wednesdays for those in Halloween costumes*
*Discounted tickets must be purchased in person.
Sensory-Friendly Peace, Love & Pumpkins Experience
Date: October 23 only
Time: 4:30-6:30 p.m.
Price: $17.50 per adult (18 & up); $7.50 per youth (ages 3-17); Free for children 2 and under.
Caregivers will receive free entry with valid ID.
Tailored for individuals of all ages with autism, complex developmental disabilities, or sensory sensitivities, this special sensory-friendly experience takes places before opening to the general public. It includes trained staff who are available to offer assistance as needed.
---
Peace, Love & Pumpkins Themed Nights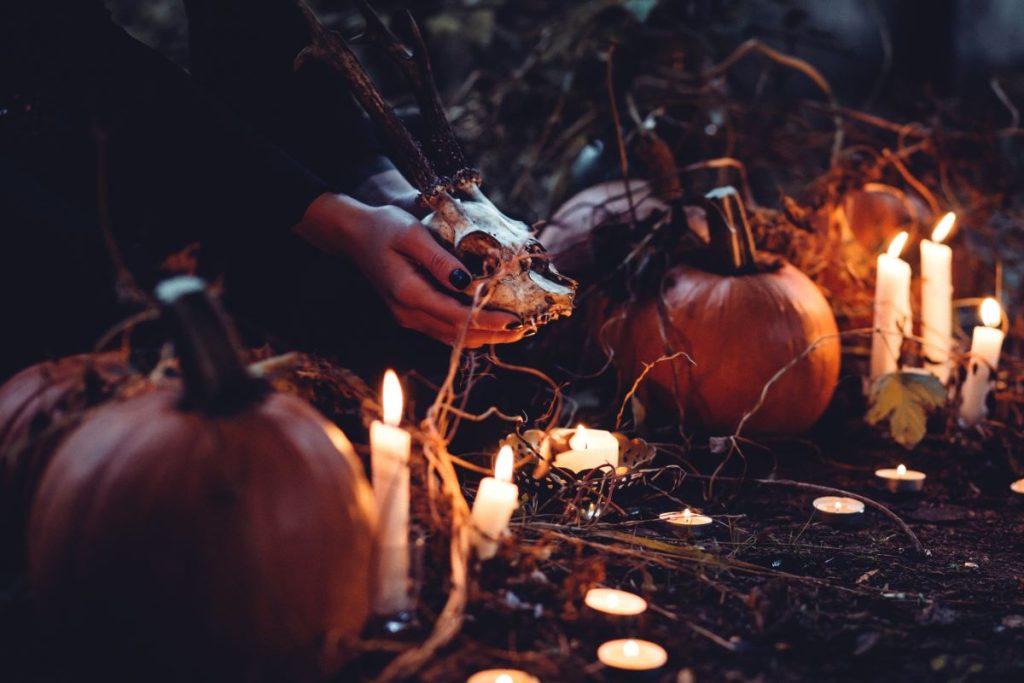 These special events are add-ons to the Peace, Love & Pumpkins experience. Some are available at no extra cost outside of your festival entry, however, most require a ticket for the specific event.
Night Market
Dates: October 13-14; 20-21; 27-28
Price: Free
Score one-of-a-kind gifts and indulge in delicious fare at the Night Market. You'll be able to shop more than 50 craft, artisan, and specialty food vendors in the beautiful Marked Shed.
Spooky Sunday Crafting
Dates: October 15, 22, 29
Time: 6:30-8:30 p.m.
Price: $15 per child
On select nights, children ages 3-13 can participate in a Halloween-themed crafting activity that's sure to make memories.
October 15 – Trick-or-Treat Bag Decorating
October 22 – Costume Mask Decorating
October 29 – Potion Making
Meet the Maker Guided Tour
Dates: October 19, 26
Time: 7:00 p.m.
Price: $25 per adult; $15 per child; Free for children 2 and under
Join a trail maker for an inside look at the creation of Peace, Love & Pumpkins. By purchasing a Meet the Maker ticket, you'll also have the option of walking the Peace, Love & Pumpkins trail before or following the guided tour.
Friday Night Frights
Dates: October 20, 27
Time: 6:30-11:00 p.m. (Last entry at 10:00 p.m.)
Price: $35 per adult — Not recommended for children.
The Peace, Love & Pumpkins walk-through gets a fittingly-frightening makeover! Ghosts and ghouls come out to roam the grounds for a terrifying experience that will leave you trembling as you exit.
Boos & Booze
Dates: October 21, 28
Time: 6:30-9:00 p.m.
Price: $23-$25 per adult
For guests 21 and up, this boozy add-on experience provides access to exclusive stations throughout the Peace, Love & Pumpkins route to sample Halloween-themed cocktails.
Got all that down? Then what are you waiting for? If you're looking for a fun Halloween trip, give Peace, Love & Pumpkins a go! For tickets and more information, visit the event page at Bethel Woods website.
Header: Paige Cody
About Author