Fall festival season is upon us and we couldn't be more excited! Bring us all the pumpkins, warm color palettes, and irresistible coziness. While the summer heat is great for breezy outfits and refreshing drinks, the time to fully embrace the crisp air and chill vibes of autumn is here. The south typically gets bouts of sweater weather, but there's no denying that it's much easier to be outside when the season changes. And best believe, we'll be outside — especially with the Honeyland Festival on the way! Happening in November, this event is brand new to the fall fest lineup, and it's already drumming up excitement. How could it not with some of our favorite names in music, food and drink, and lifestyle brands on the roster?
I did a deep dive into all the need-to-know info on Honeyland and found everything to help you prepare for a trip to Texas for the occasion. It's sure to be a good time, and as the first of (hopefully) many, you don't want to miss out!
For our review of the Honeyland Festival, click here!
---
About the Honeyland Festival
"Imagine a place where Black culture is not only featured—it flourishes. Where you can enjoy handed-down dishes from the country's top Black restaurateurs, pours of the most spirited cocktails, and the world's biggest names in music. Seasoned with soul, Honeyland is an elevation of Black chefs, brewers, and artists who form the fabric of American cuisine. It's a celebration of those experts who transform our lives, and it's all coming together to carve a path for the next generation."
— About Honeyland
On November 11-12, the inaugural Honeyland Festival will take place, rain or shine, at Crown Festival Park in Sugar Land, TX just outside of Houston. The event showcases three primary categories — Beats, Eats, and Sips — with big names in each lane making an appearance. Spotlighting Black businesses, art, and entertainers, the festival gives attendees the chance to immerse themselves in a celebration of culture and creativity all weekend long. Basically, there's no doubt you'll leave feeling inspired! In addition to the lineup of musical performances, there will be a variety of panels, demonstrations, tastings and more. Attendees will also be able to support small and local businesses at a marketplace on site.
R&B icon Mary J. Blige is headlining this year's Honeyland Festival along with the ultra-talented Miguel and Summer Walker. Also joining the musical lineup is Chlöe, Lucky Daye, Tobe Nwigwe, Coco Jones, and Tems. On the local front, Honeyland is putting some shine on Houston with a special set from the city's all-stars: Slim Thug, Paul Wall, Scarface, Lil' Keke, Z-Ro, and more. Letoya Luckett, Dende, DJ Mr. Rogers, Lenora, and more Texas natives will also be stopping by.
Aside from the music, other guests who'll be on the Honeyland grounds are celebrity chef Marcus Samuelsson, actress Tabitha Brown, winemakers The McBride Sisters, singer and chef Kelis, TV personality Kalen Allen, and more. The full list can be found here.
2023 Festival Lineup*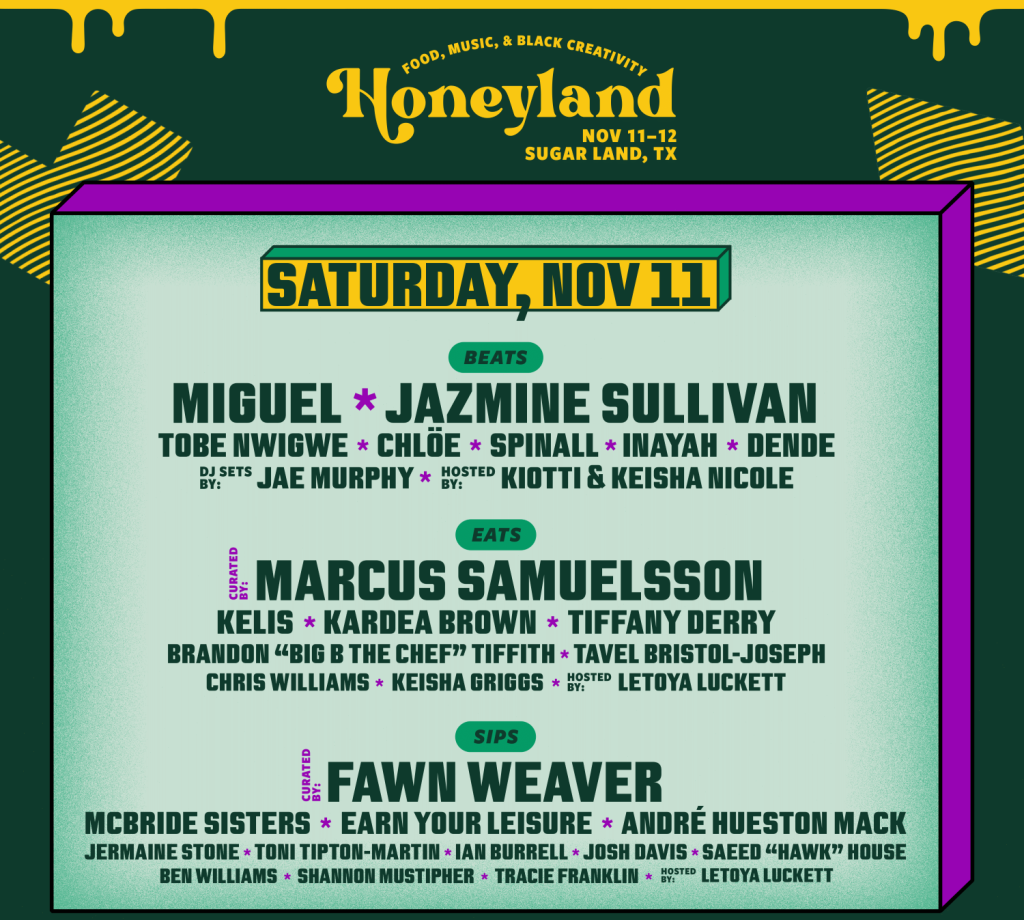 *As announced October 27, Jazmine Sullivan will no longer be performing at Honeyland due to unforeseen circumstances. Summer Walker will take her place.
Add-On Experiences
Farm to Feast: Lunch Party
Price (includes fee): $150.81
Elevate your weekend with this extraordinary multi-course pairing affair, meticulously designed to captivate all of your senses. Your seat at the table awaits you.
Farm to Feast: Dinner Party
Price (includes fee): $236.58
Singer, songwriter, and now chef Kelis hosts a soulful four-course dinner featuring organic ingredients. Everyone's favorite celebrity bartender, Saeed "Hawk" House, crafts a cocktail to accompany the farm fresh meal.
Honey Brunch Day Party
Prices (includes fee): $89.55 for Blue Pass; $150.81 for Limited Edition

Want a brunch party with your friends? For $2,944.35 (includes fee), you and 9 of your BFFs can live it up with a family-style brunch at the VSOP Cabana!
Keep the party going! Join Steve Rogers and Robert Wright, co-owners of The Warwick and Prospect Park, Chef Jabril Riddick and Courtney Adeleye of Cool Coffee Clique for a day party flowing with food, music, and drinks fueled by Martell.
You can purchase add-ons for Honeyland Festival here.
What We're Looking Forward To
For more of what to expect, here are some festival events that we're hyped about:
Black Girls Really Are Magic
Black Girl Magic entrepreneurs, the McBride Sisters talk family, reminisce on their childhoods, and and how they came together to build their massive Black female-owned and -led wine brand.

Earn Your Legacy
Revolutionary media platform, Earn Your Leisure, leads a can't miss conversation on Black-owned businesses and entrepreneurship with Honeyland curators Marcus Samuelsson and Fawn Weaver.

Home Grown: From Farm to Table
Urban farmer and Nat Geo star Indy Officinalis hosts six student chefs as they face off in a mystery basket challenge using fresh ingredients from Mykawa Farms. You won't want to miss these surprises!

Legacy of Black Beverages
Cheers with Toni Tipton-Martin as she previews and crafts a cocktail from her upcoming book: 'Juke Joints, Jazz Clubs and Juice: Cocktails from Two Centuries of African American Cookbooks.' Savor heritage in every sip!

All the Way Up
Peek into a kitchen conversation between Angela and Tabitha, as they dish on life, love, and legacy. Its giving Girls Night 'In' with garden inspired cocktails by famed mixologist Keyatta Mincey Parker to keep the vibes flowing.
For a detailed breakdown of the Honeyland Festival 2023 schedule and map, click here.
To download the festival line up, click here.
But wait… There's More!
There's so much happening at the Honeyland Festival that it would take us all day to list it all! In addition to performances and panels, there are also several stations for attendees to visit throughout the weekend including:
Honeyland Park
Think recess for grown-ups: Larger-than-life games, good drinks, experiences, and Black joy all day long.

Corner Store
Shop from the best Black-owned businesses for you and your loved ones.

Stan Zone
Fans and stans can rub elbows with their favorite personalities throughout the weekend.

Taste of the Diaspora
A showcase of the rich tapestry of cultures through food, beverage, and creativity within the Black community.

The Grapevine
Check out a diverse selection of top Black-owned wines. You might discover a new favorite!
…and that's not even touching on the official Honeyland merch, Blanket Zone, The Distillery (whiskey, bourbon, and cigars), wellness brands, and everything in between! All in all, it's sure to be a jam-packed weekend no matter how you divvy up your time. However, solid itineraries can all be decided as the event gets closer. Your first step is just to get there!
With four types from GA to Platinum, festival passes start at $95 for a single-day. If you aren't local, hotels in the area have partnered with Honeyland to ensure you have a place to stay and a ride to the event grounds. Fortunately, the organizers already have a guide prepped to help you plan your visit.
For tickets and more information, visit the Honeyland Festival website here.
Follow the Honeyland Festival: Instagram | Twitter | TikTok | YouTube
---
For more Honeyland Festival coverage, click here.
Header: nappy
About Author