With less than a year to go before Scott Pilgrim's 20th anniversary, the timing of Scott Pilgrim Takes Off couldn't be better. If you're new to the franchise, you can read every book (in the original black and white and color), watch the film, and watch the anime series with plenty of time to spare. If you're a long-time fan, it's a chance to relive the fun from start to finish and maybe even add more sweet gear to your Scott Pilgrim collection.

Whether you're a newbie or a well-seasoned Scottaholic, the Netflix release of Scott Pilgrim Takes Off is surprisingly uncharted territory. Though it contains familiar elements rooted in the core of the original graphic novels, Scott Pilgrim Takes Off is a fresh, heart-fueled adventure of What Ifs and harsh lessons told among video game influences and larger-than-life melees. As someone who got into Scott Pilgrim roughly five years after its initial book release (time is fuzzy), I have more than a few thoughts. Ready to hear 'em? Let's begin!
Spoilers ahead.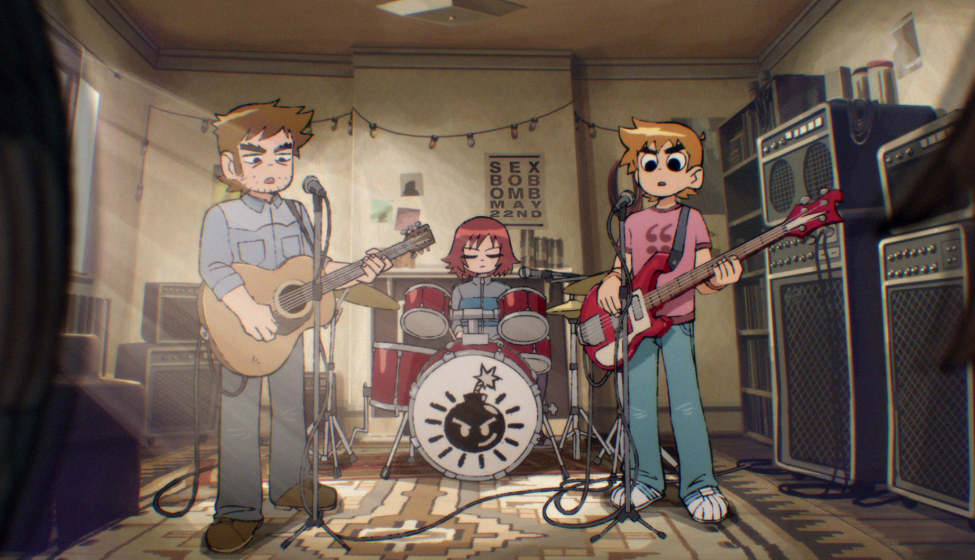 In Toronto, Canada not too long ago, Scott Pilgrim is dating a high schooler…
…and that's still the case at the start of Scott Pilgrim Takes Off. His redemption arc has to start somewhere, right? The source material really did pick the perfect spot. However, he's not a bad guy, he just has some growing to do. Don't we all?
Essentially, the general plot of the story goes like this: Indie rocker Scott Pilgrim (voiced by Michael Cera), already a legend in his own right, comes face-to-face with a skater girl in his dreams. Then, he sees her in real life. After getting the guts to speak to Ramona (Mary Elizabeth Winstead) and failing to seal the deal with her number, he naturally tracks her down like anyone bound to early-aughts technology — through mutual friends and her job. Before putting this all on Scott, it's important to note that Ramona has literally been infiltrating his thoughts. So, his interest isn't fully unfounded. Regardless, they meet again, hit it off, and Scott is thrown into battle one-by-one against her seven evil exes. Yes, that escalated quickly. Nevertheless, if Scott defeats the League of Evil Exes, then he can date Ramona.
What Changed?
Knowing the plot and seeing it adapted on film led me to believe that the series wouldn't be much different at heart. It was announced that the anime would have some changes, but I immediately assumed it meant incorporating more elements from the comics, and ran with that. But I was mostly wrong. While there are some details from the comic book series that made it into the show, such as Scott's love of Sonic the Hedgehog, Scott Pilgrim Takes Off was wholly unexpected in terms of perspective and depth. Instead of telling the tale about how Scott wins multiple boss battles leading up to the big baddie, Gideon Graves (Jason Schwartzman), Scott Pilgrim Takes Off shows what happens if he loses. 
Considering the losers burst into coins like Mario villains, you'd think that's where Scott's story ends, but dead men don't speak. So, when Ramona hears Scott in her dreams, she realizes there's a chance for a second date after all.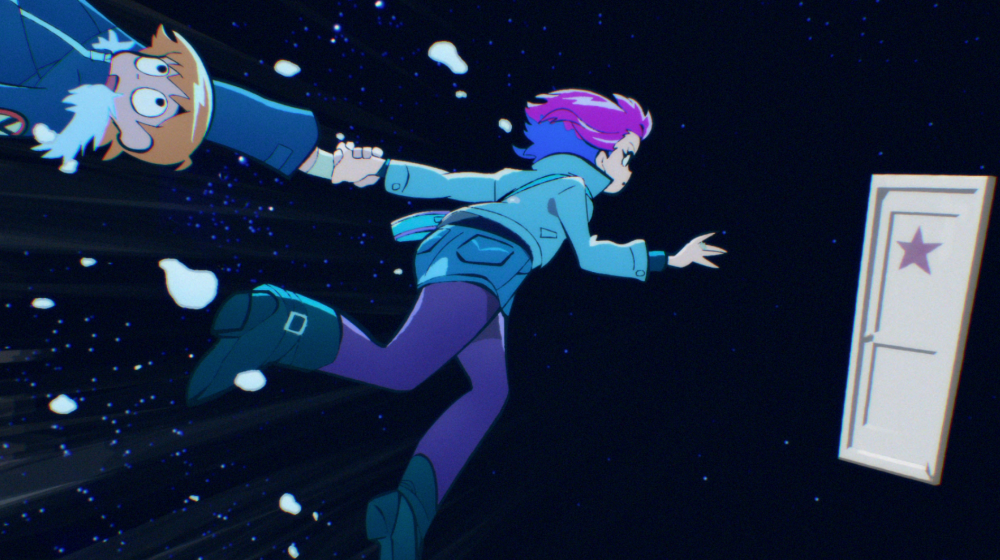 The Switch Up
To be fair, Scott Pilgrim Takes Off was marketed like the original story, even down to the descriptions, hence the final product being called a "bait and switch" by critics. I'll even admit that I had to reframe my thinking for what it would be after seeing the first episode. However, after watching the full series, I don't see it as lesser than its other two forms. This version just happens to be a total flip on the plot that puts Ramona in the hero's seat while Scott is MIA. The shift results in a refreshing take that adds to the humanity of not only Ramona, but the evil exes as well. Something that couldn't be delved into as deeply in the film without it being split in two. Still, the series keeps iconic moments from the film and the graphic novels while taking on a life of its own.
Scott Pilgrim Takes Off captures and calls out Scott's complexity and flaws as a human being along with everyone else's imperfections, painting a realistic image of friendships, social circles, and identity. At least, as realistic as it can get while still having the freedom to go over the top without straying away from the essence and tone of the franchise. The exes aren't limited to a single note, but are given layers, individuality, and history — some that even differs from their graphic novel origins. Most notably, Gideon Graves, Matthew Patel (Satya Bhabha), and Todd Ingram (Brandon Routh).
Telling the story from Ramona's point of view expands the universe of Scott Pilgrim on screen.
There are brand new Street Fighter-style fight pairings, new character dynamics, and new "unlocked" endings that didn't seem possible before. We also get to see Ramona's ever-changing hair colors as she dyes it each episode. What stood out to me the most is that we see how much Ramona likes Scott and how far she's willing to go for him (especially when you consider they haven't known each other very long). It's not that it isn't shown in the film or comics. However, in the comics, we get six books worth of development that would be a challenge to put on film without dragging it out. By shifting to Ramona's perspective for the anime, we see a whole new side to her as a person — including her emotions, motivations, and ambitions — without losing her mystery. In fact, it made me like her character more. 
Speaking of characters, Knives Chau a.k.a the high schooler (voiced by Ellen Wong) also gets a pretty wicked character upgrade. Granted, her story arc in every iteration of the story is top tier, but the anime brings back versions of Knives' relationships with Stephen Stills (Mark Webber) and Kim Pine (Alison Pill) that I missed seeing in the film. Her interactions with Kim also include one of my favorite exchanges in the entire series as the two have an impromptu jam session on Sex Bob-Omb's instruments after Scott, their bassist, vanishes.
"How do I know which notes to play?"
"It's up to you, that's why they call it play."
What I love about the Scott Pilgrim franchise is that each body of work can be enjoyed separately or together. The space that's left from the comics and film being so different from each other is filled in a way by Scott Pilgrim Takes Off. Not to mention the telling of it in anime also allows it to showcase the action and fantasy sequences in a new light. (Oh, and the soundtrack is still killer.)
If you've never read or watched Scott Pilgrim before, you'll miss some of the Easter eggs in Scott Pilgrim Takes Off, but it's a fine way to be introduced to the franchise. Plus, it's only eight half-hour episodes that can easily be finished in a day. Overall, this is a fun, comedic ride full of odd-yet-relatable characters that make the series well worth its time.
Scott Pilgrim Takes Off stars Michael Cera, Mary Elizabeth Winstead, Satya Bhabha, Kieran Culkin, Chris Evans, Anna Kendrick, Brie Larson, Alison Pill, Aubrey Plaza, Brandon Routh, Jason Schwartzman, Johnny Simmons, Mark Webber, Mae Whitman, and Ellen Wong in their original roles. It also features voice talents from Will Forte, Nick Frost, Simon Pegg, Finn Wolfhard, Kirby, Kal Penn, Bowen Yang, Weird Al Yankovic, Metric, and more.
Based on the Scott Pilgrim series from Bryan Lee O'Malley, Scott Pilgrim Takes Off is now streaming on Netflix.
Header: Scott Pilgrim Takes Off (Netflix)
About Author