Despite it being 11:00 p.m. in Norway, Torine showed up to our virtual interview beaming and enthusiastic to chat about life, music, and her upcoming U.S tour. Her 2022 debut EP, Unholy, is heartbreaking and dark — not at all like the effervescent woman smiling back at me on Zoom.
Torine's single, "7 Minutes In Heaven," stands in stark contrast to her previous work. It's an upbeat dose of ear candy; a bright pop love song that depicts the excitement of a new crush and the anticipation of new love. The accompanying music video feels like a nostalgic send up to the stolen moments of new love that may follow a drunken game of spin the bottle. Replete with Torine adorned in only clouds like a mischievous Cupid, she takes us on a flirtatious ride visiting scenes of her as part of a happy couple: frolicking in a park, sharing ice cream, kissing, and generally being #couplegoals.
While Unholy explored the ambivalent emotions Torine felt leaving the rigid structure of religion that she grew up with as well as the tumultuous experiences that come from both romantic and societal heartbreak, her newest music shows a different side.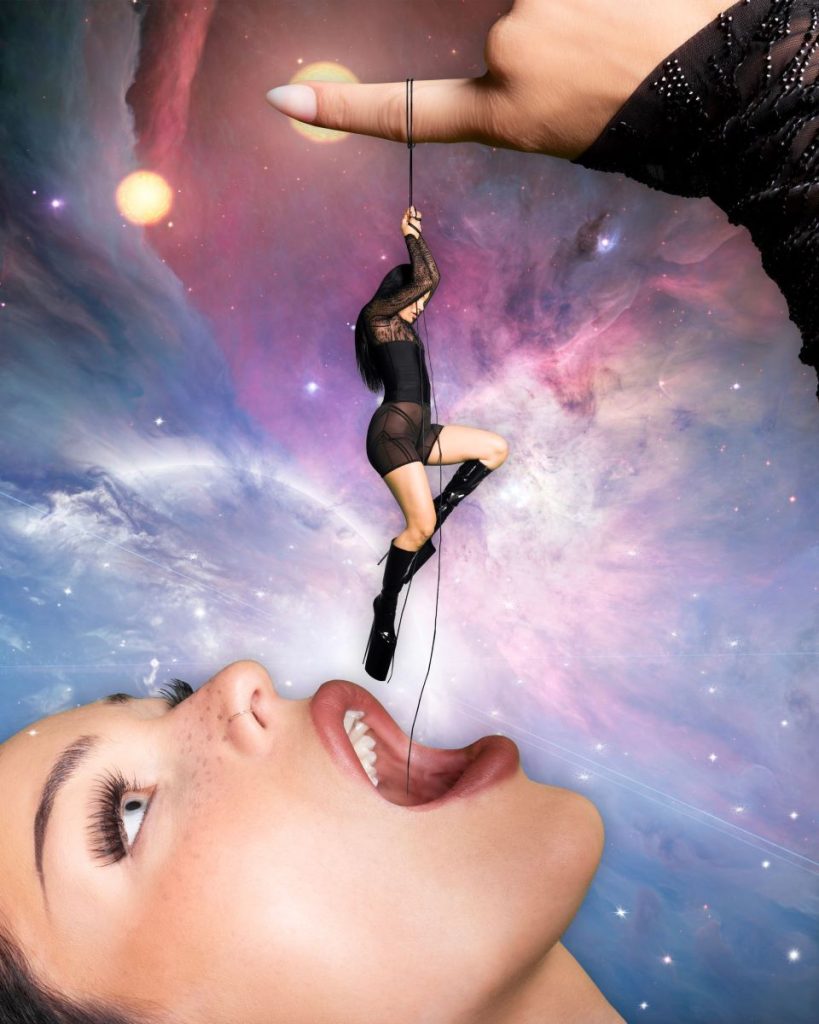 In a YouTube video titled "The story of my life," Torine poetically alludes to the restricted past of her childhood and her embrace of a new definition for what faith and expression means to her. Not shy to discuss the irreverence she brings in her lyrics and visuals, Torine is mindful of how some critical eyes might perceive her and brings deep consideration to the impact of the message she shares.
You released a video on YouTube not too long ago titled "The story of my life." It says a little bit about what I think we can expect with your sound. How has your relationship with religion shaped your thinking and your self-expression?
I think that the fact that I grew up in church actually made it even more natural for me to express myself through music. Because even though there's really a lot of stuff that I disagree with, the environment and the church were really encouraging with music. We learned that we all are given various gifts and that we can learn to use them. For me, it was super natural already to explore with music and I really feel like they pushed us. I wasn't allowed to listen to blink 182 or Avril Lavigne. So, in the church, we were playing the worship music that we play. There was guitar, bass, and really organic drums. I think all of that really shaped my love for guitars and choruses.
You seem to challenge the ideas we typically see the church push forward. Specifically, the religious ideas around self-expression, sexuality, and morality seem to be a real theme with the Unholy EP. Why is it important for you to share that particular part of your journey with your audience?
I've been asked to get dressed (cover up) when I was pretty young. When I got puberty, then grown men in church told me that I was a temptation. A lot of them actually removed me when I got my degree, like on Facebook and other places, because they didn't want me [to be] a temptation or whatever. At that point, I didn't realize that it wasn't me doing anything wrong. I just genuinely thought that I was not good enough.
I think it's super serious to tell anyone that you're not worthy. And I especially think it's super dangerous to think or say that people are not worthy in God's name. Because I don't view God that way. I always learned from my mom that God is like a forgiving father. I don't look at God like an angry man sitting with pointing fingers and yelling at you. I genuinely just think that God is love and that we really have misunderstood a lot of things.
When I listened to Unholy, it definitely felt much darker than "7 Minutes in Heaven," which is very playful and a lot lighter. How would you describe this new music that's coming out compared to Unholy? What do you think is different?
I'm a very transparent person. Like, if I'm happy you notice it. And if I'm sad, you're definitely going to feel it if I walk in the room. I think that mirrors in the music as well. I think it shines through that I'm actually happy. Writing Unholy was something that was a lost time. I have very big questions about life. I feel like now I have landed a little bit in my position, even though I'm still evolving. But I feel like I can like focus on normal stuff again, if that makes sense. Like having a crush and normal, weird stuff — Not like, "Am I going to hell?" I think it shines through that I'm genuinely more happy and more playful and enjoying life a little bit more.
I love the tongue-in-cheek approach that you took with promoting "7 Minutes in Heaven." There were some people in your comments telling you to be respectful.
I think that a lot of people don't understand a certain sense of humor, which is super irony-based … I thought that picture was a little bit harmless. And that is my humor. I also believe that God has a sense of humor. I think we need to remember that. God created the sense of humor, I think he would laugh. The sad thing about religion is that people are always gonna make it about something that it isn't. I have to be respectful, but I don't really think that was disrespectful. If it was, I would apologize and say I'm sorry because I'm really not trying to be stepping on anyone's toes.
You incorporate a lot of personal narratives into your work. With these changes you've been going through, how as your approach to writing music changed now that you've left some of those influences that you had in your youth behind? What does that look like for you now?
Honestly, I don't feel like [my] writing process is any different because I just still write what's going on inside my mind. Some years ago, it was about my existence: "Why are we here?" Like, really big questions. Now it is more… a little bit conversational, I guess. I never had a really big friend group. And I would love like for my music to feel like they had a conversation with me — or with anyone. So, it's not really any different. I don't really love writing, it's more like something that I really can't stop doing.
Would you say that it's something that's a part of you — something you can turn on or turn off?
For sure.
I can feel that. When you say that it sounds conversational, it really does. It felt like a friend who was letting me in on a secret.
And that's exactly what I want.
Where are you finding inspiration these days? What's motivating you? And what can we expect from you going forward?
I have really big dreams. If we can pretend that it's not very far off, I would love to play stadium tours and be a place where outsiders like me could find a belonging.
I think my mom is my biggest inspiration. She has a really special way of existing in life. Before I was born and during the pregnancy, she struggled with really heavy addictions — my father as well. But when I was born, she didn't even go to rehab. She tells me that she was saved by God. Whenever I'm feeling inspired, I literally can just go hang around my mom because she has the craziest stories and she's the best storyteller. And all her stories are real. I just think my mom is super inspiring.
One of the most important things that she tells me is that I should aim to be the person that I want to meet. So, I really try to think about that every day.
Torine will be joining pop duo Frenship on tour in November 2023. Her latest single, "Medicine," is out now.
You can find more information about Torine on her website, Instagram, and YouTube.
Header: Willa Wathne
About Author