The Dream Chapter is officially over as TXT releases Minisode 1: Blue Hour, an extended play set to bridge the gap between eras for the Big Hit Entertainment quintet. The five-track mini album continues from where the first chapter leaves off, shifting from the joy of friendship to the changes that can occur within those bonds.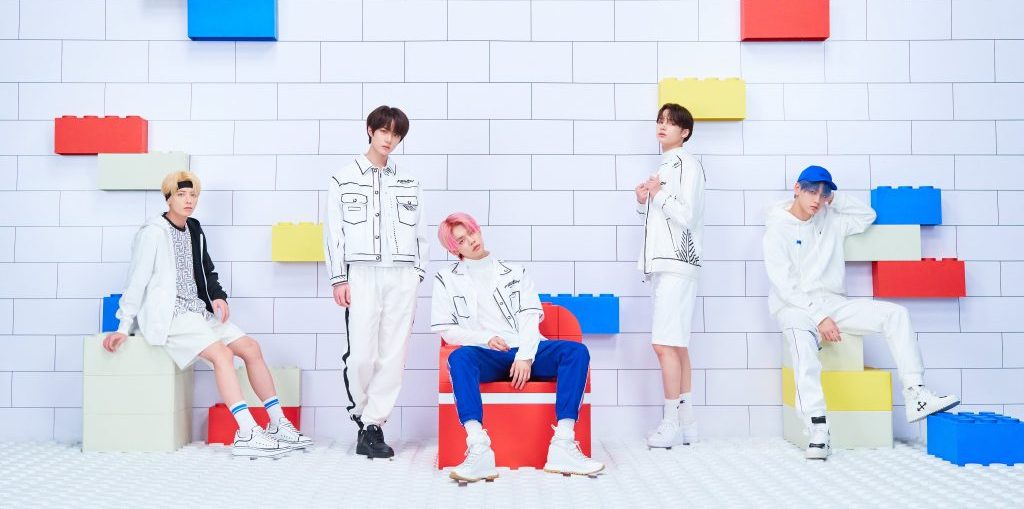 We've said it before: TOMORROW X TOGETHER has a flair for retro-infused tunes. They conquer the art of the newtro style without the music sounding like it's irrevocably stuck in time.
"Blue Hour", the title track of Minisode 1, takes elements of disco for a whirl. The Korean title, "5시 53분의 하늘에서 발견한 너와 나", translates to "You and I, discovered in the sky at 5:53"; representing dusk, the time when the sun dips just below the horizon on the verge of twilight. The song stirs up the flurry of emotions associated with young love, referring to the metaphorical "blue hour" of a relationship.
It holds all the awareness of an approaching end to a chapter; while carelessly imagining that anything could happen at the line between day and night, when everything seems heightened by a touch of magic.
Diverting from darker concepts seen in The Dream Chapter: ETERNITY, the music video for "Blue Hour" is vibrant in color, wardrobe, setting, and spirit. Donning crop tops, cowboy hats, and crisp denim and suspenders, TXT dances in fields and in front of a carousel, fresh-faced and infectiously warm. The choreography is notably easier to follow than many of their previous releases, though the boys shared some mild apprehension over dancing with props and clothing in this comeback.
"In particular, there is a part in the choreography where we use hats and coats," they stated during their Blue Hour press conference. "It was hard at first but we practiced very diligently. We gained a lot of inspiration by watching Jimin sunbaenim's performance of 'Filter' during BTS' online concert [Map of the Soul ON:E]."
The dance break in the video is a fun line dance that the group encourages fans to learn as they sing of being willingly stuck in the blue hour, leaving lasting memories of togetherness.
The Blue Hour
Considering all of the messages about change and separation, Minisode 1: Blue Hour has many moments of connection, from the aforementioned line dancing of "Blue Hour" to the anthem of "Wishlist". It's a method of forming a tether through music to combat isolation we've all felt, especially in the midst of a global pandemic that has affected the way we interact with the world.
"There are times when we feel lonely even when we're with our friends, or feel that we'll be left alone some time. We tried to express such emptiness in a unique manner," TXT group leader Soobin explained at the Blue Hour comeback show.
A strength of TOMORROW X TOGETHER is the versatility displayed through their mini albums. In each of their EPs, listeners are given a sample of the group's capabilities; not only what they've already shown is possible. They drop music that's familiar to fans without forgetting to stretch their musicality muscle with new sounds; further expanding their repertoire.
It's especially apparent on Blue Hour as the group experiments more with sweeping rock melodies and foot-stomping calls-to-action.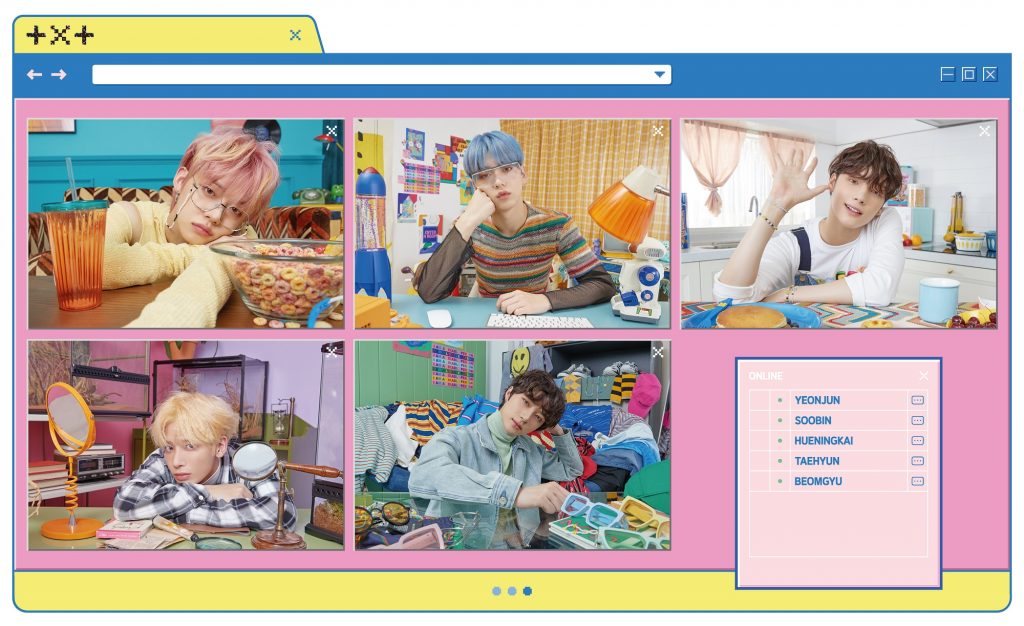 Album opener "Ghosting" sets the tone immediately; settling nicely into the aspect of "self-written teen narratives by the members" as noted in a press release from Big Hit. The pop-rock track has a dreamy vibe fit for a teen movie soundtrack. One could even imagine TOMORROW X TOGETHER making cameos as the heartthrob band at the school dance. And we mean that in the best way possible — It's a song modeled after the classics. Written in part by TXT members Soobin, Taehyung, and Huening Kai, "Ghosting" addresses the feeling of being left on read and without closure.
It's a different sound from what we've heard from TXT to-date; along with "Wishlist," the other rock-inspired tune on the EP. Ringing out like an anthem with its chants of "Say now!", "Wishlist" covers the anxiousness and enthusiasm attached to preparing a gift for someone you like. Group members Yeonjun, Taehyun, and Huening Kai are credited with songwriting on the track.
The energy of the Blue Hour rises and falls evenly on both ends; though "Ghosting" and R&B banger "Way Home" are completely different genres. The latter of which has lyrical contributions from TXT members Yeonjun, Taehyun, and Huening Kai; alongside Big Hit CEO and producer Bang Si-hyuk and producer ADORA. The peak in the middle is "We Lost the Summer," a Latin-rhythmed track with contributions from singer-songwriter Charlie XCX. Producer Bang was inspired by Han's Band's "Arcade" for the B-side.
"The song sings of teenagers facing a world flipped upside down amid the COVID-19 pandemic," Soobin said at the Blue Hour press conference ahead of the album release.
The meaning of "We Lost the Summer" is felt through lyrics like "This nightmarish week, now a month, a year; I want to meet you again, our summer that was shining" and even more vividly:
That endless school break
The repeating morning
Our clock that lost the weather
Is broken at winter
Cause we lost the summer
When we lost each other
Give me back the season
Oh, it's all gone
During the TOMORROW X TOGETHER Comeback Special: Blue Hour, hosted by Mnet, the group performed "Ghosting"; "We Lost the Summer"; and "Blue Hour". They also performed a medley of fan-favorites "Cat & Dog" (The Dream Chapter: STAR), a dance break of "Angel Or Devil" (The Dream Chapter: MAGIC),and "PUMA" (The Dream Chapter: ETERNITY); symbolic of the group's growth in the year and a half since their debut in March 2019.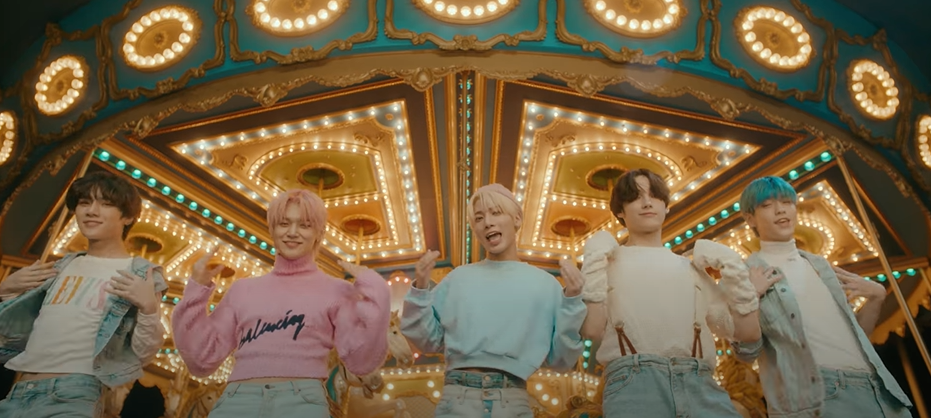 Our Youth Is Yours
Prior to the live stage of the medley, the group was shown older videos to see how much had changed; expressing how much they missed performing for MOA, their fandom. They went on to recall the emotions attached to certain performances; such as happiness while performing "Angel Or Devil" and the excitement they felt while exploring a darker concept with "PUMA".
Those emotions came to a head as TXT completed a group mission to win a key into a secret room. It was filled wall-to-wall with letters from MOA showing love and support. Shortly after they entered, video messages from fans began to play, spliced with highlights of TOMORROW X TOGETHER's career; including the day of their debut, their first music show win, and their first Rookie award won at an awards ceremony.
Vocalist Taehyun was especially moved by a short message from MOA that fellow TXT member Beomgyu read out loud: "If my youth is TOMORROW X TOGETHER, then my life will always be my youth."
"If my youth is yours, MOA, then my life will always be my youth," replied Taehyun. He closed with a sentiment that seemed to be felt by all of the members, "My youth is yours."
The latest EP by TXT, Minisode1: Blue Hour, is now streaming on all major music platforms.
Have some thoughts on TOMORROW X TOGETHER's Minisode 1: Blue Hour? Tell us below!
Header: TOMORROW X TOGETHER (Big Hit Entertainment)
Sources: (x), (x), (x)
About Author