A few years ago, I was on the hunt for nude pumps to perfect a look that I call "Mile Long Legs," where skin-tone-colored shoes make your legs look longer. After much searching, I finally found a pair of perfect nude pumps and cherished them until the day my cat decided to use them as a litter box.
I wasn't so much frustrated that a pair of shoes had been ruined as I was that this particular hard-to-find pair of shoes were ruined. When would I be able to find the perfect brown nude-to-me pumps again? The search began, but to my surprise, this time around the market had changed. Albeit limited, there were real choices, including brands that previously did not exist. It seemed that maybe, just maybe, companies were recognizing that being in a global market and maximizing profits meant recognizing and even catering to people whose skin tone is deeper than sandy beige.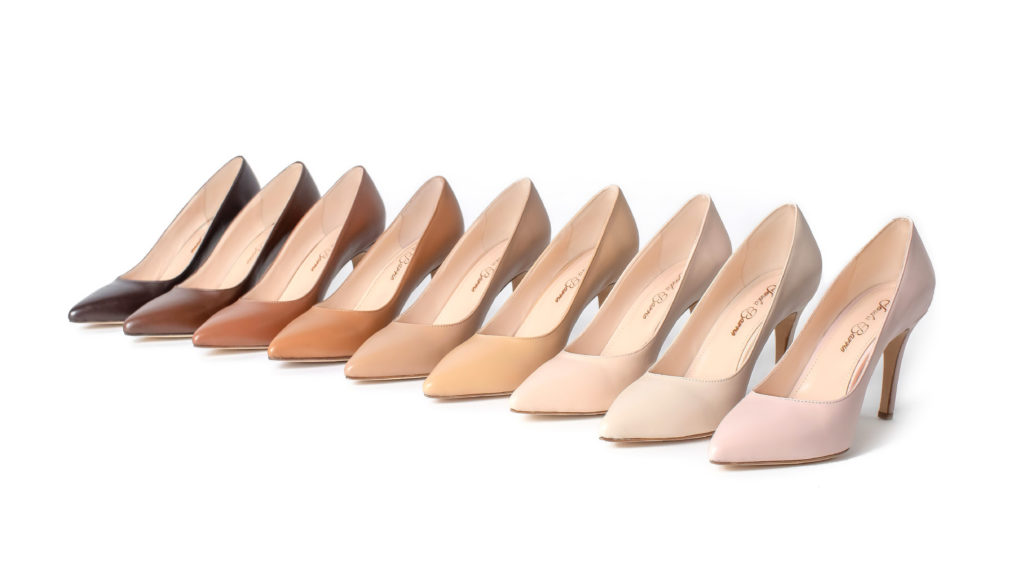 We've seen in the last few years hosiery and shapewear companies have sprung up with offerings for very pale all the way through very deep skin tones. Footwear is even coming along with more manufacturers offering more than one shade of brown for pumps and sandals. The market responds very well when the shades are thoughtfully made for everyone. (1, 2) The dollars were there just waiting to be spent on good quality products that don't force a customer to have to compromise on something like the color of their skin.
Why did it take so long, seeing as how brown people aren't a recent invention?
White supremacy, racism, xenophobia, and ignorance of the marketplace are just a few but incredibly potent reasons. And now why the change? Costs and improvements in manufacturing make it less expensive to create products that can cater to a wider range of demographics. This makes the emergence in non-white, independently-owned companies fulfilling this long-neglected need unsurprising. However, large companies have always had the ability to do this and just didn't.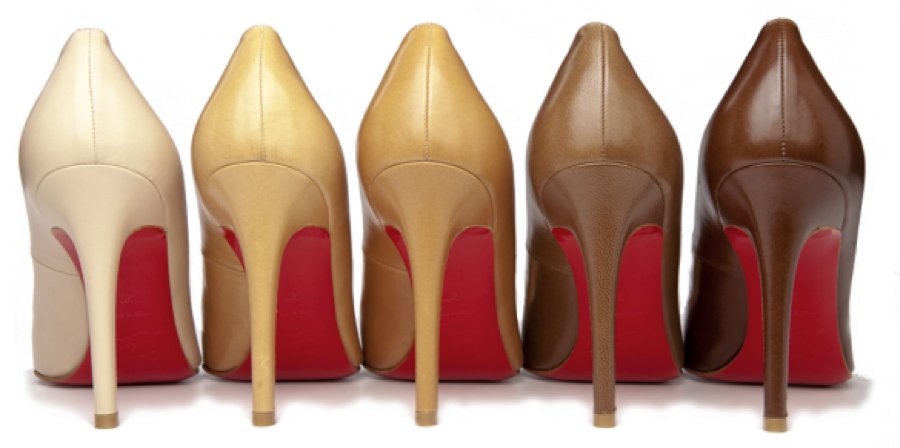 Instead, non-white markets were considered niche with brands releasing limited edition "inclusive" collections; see: Christian Louboutin and Target (1, 2). People of color are not limited edition and shouldn't be treated or marketed to as such. Companies have shown their hand and now we know that they can make inclusive color ranges happen, which should be the norm and not the exception.
Consumers are taking notice, spending more of their dollars with brands that not only reflect what they see in the mirror, but also their personal values. Still, if you search for nude-colored anything the default that pops up from Amazon, Pinterest, Zappos, and Google is beige. Breaking the synonymous association "beige" and "nude" have with one another will be difficult, but not impossible. Some companies moved away from using the word nude to describe skin-tone colors; others use nude and a numbering system to show the different shades. Here are a few footwear and hosiery brands that seem to be getting the "nude" thing right:
Footwear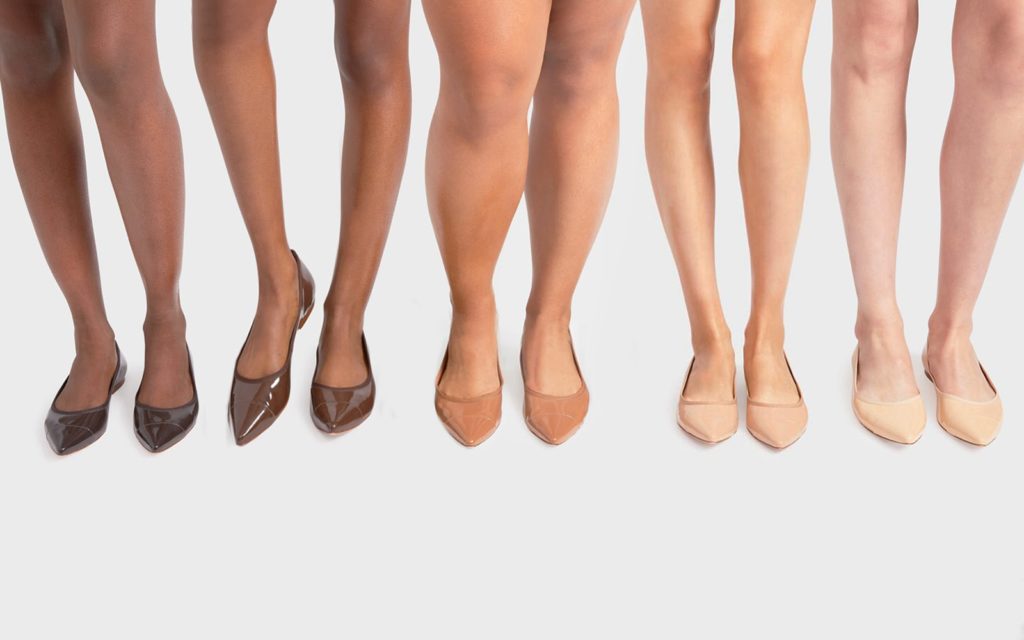 Rebecca Allen
An independent brand currently offering three distinct feminine styles: pumps, strappy high heeled sandals, and practical flats; each available in five different shades of nude.
Jeneba Barrie
This luxury line of shoes originally launched on Kickstarter that features an incredible thirteen shades of nude. The current collection features a classic pump in three different heel heights and a loafer that is available for pre-order.
Kahmune
Another line of luxury footwear showcasing ten shades in classic pump styles as well as a couple of different sandal options. The brand's mission is to be inclusive and they pride themselves on the diversity offered through their range. They even offer a color finder to find the perfect shoe for you by referencing your favorite foundation shade.
Honorable Mention: Searching "nude" on DSW brings back a range of shades from light beige to deep brown. Occasionally, they will curate a selection of styles for women and men and feature it on their home page.
Underwear, Hosiery, and Shapewear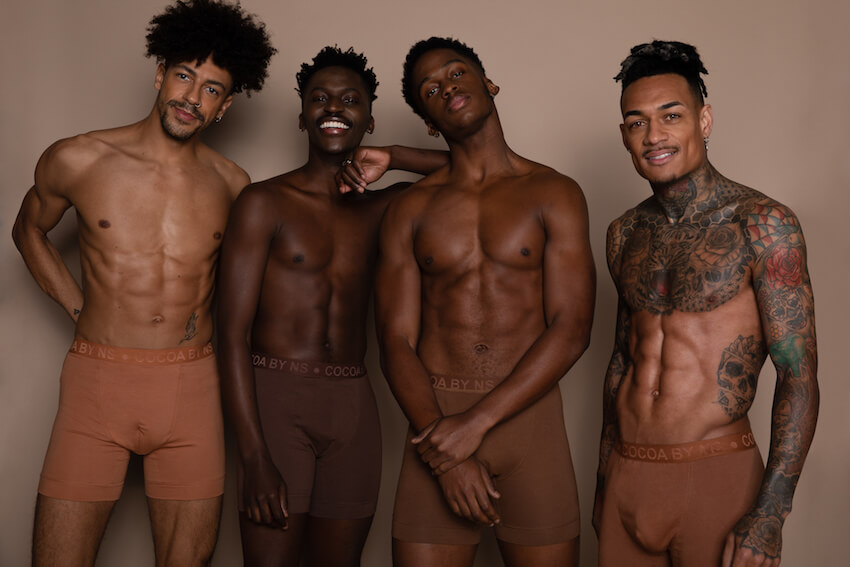 Nubian Skin
This company caters to dark complexions, and is one of the few with nude selections for both women and men. They have a range of styles of lingerie and hoisery that come in four shades of beautiful brown.
Brown Skin Essentials
Find your perfect shade of semi sheer (15 denier) pantyhose from this company that offers six shades from light tan to deep brown in sizes up to a US Size 16.
Third Love
One of the larger brands on the list, they receive our applause for introducing and maintaining a variety of skin tone options for the various styles in their collection. Their two most popular bras come in five shades of nude and have coordinating panties to choose from. Sizing is also more inclusive going up to a 48D
Honorable Mention: In 2018, Tom Ford sent his nude collection of mens underwear down a runway and has maintained the selection of the six shades in the popular cotton boxer brief.
The Future of Nude
As consumers support companies that offer the colors they need and brands realize there is real money to be made by offering truly diverse shade options; the trend will eventually become the standard. Companies that can't or won't keep up will find their reach and revenues shrinking as savvy and inclusion-minded shoppers take their business to companies that reflect their values and needs. The future is looking like a bright beautiful skin tone rainbow.
Cover Image: Third Love
About Author