When 23-year-old Amanda Gorman took the stage as the youngest poet to perform at a presidential inauguration, she left the world inspired by her powerful poem, "The Hill We Climb". She uses her artistic talent to speak about the social and political issues faced by marginalized groups; and continues to reach for her dreams, making history as the first poet featured on the cover of Vogue.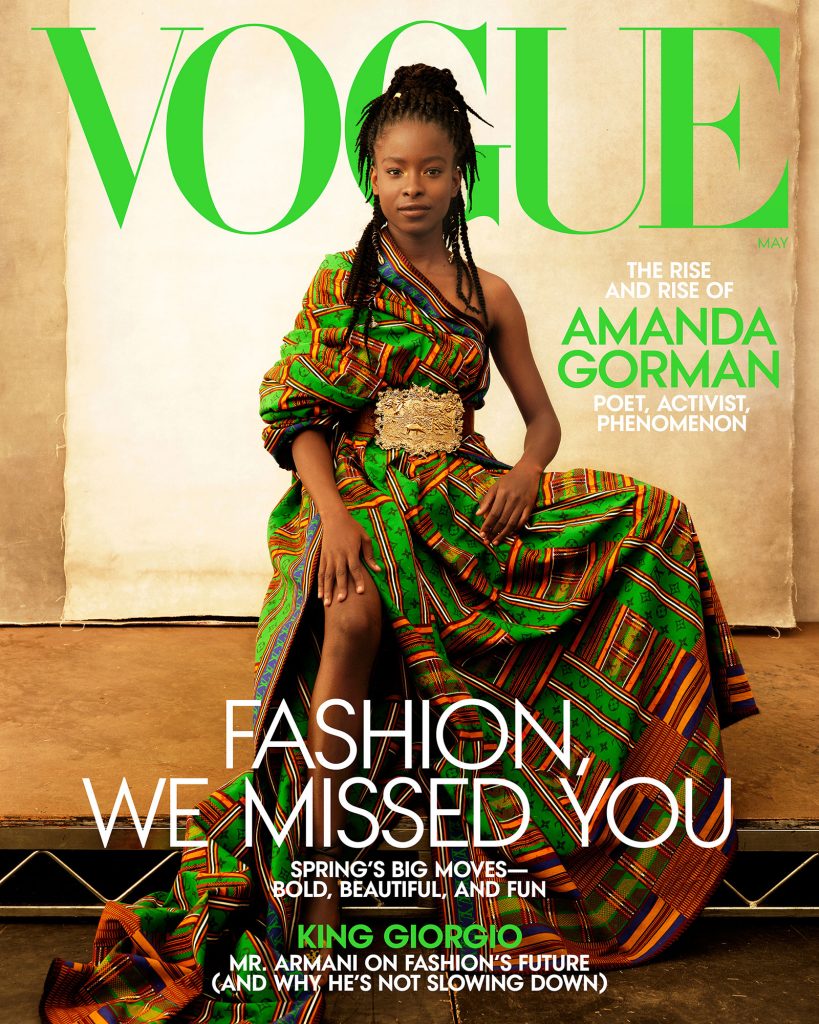 Gorman graces the May 2021 cover in an African-inspired Louis Vuitton dress designed by Virgil Abloh.
Vogue took to social media to announce the exciting news, tweeting: "@TheAmandaGorman is our May cover star! Poet, activist, optimist, style icon — Gorman has become so much more than a literary star. Meet the phenomenon in the making."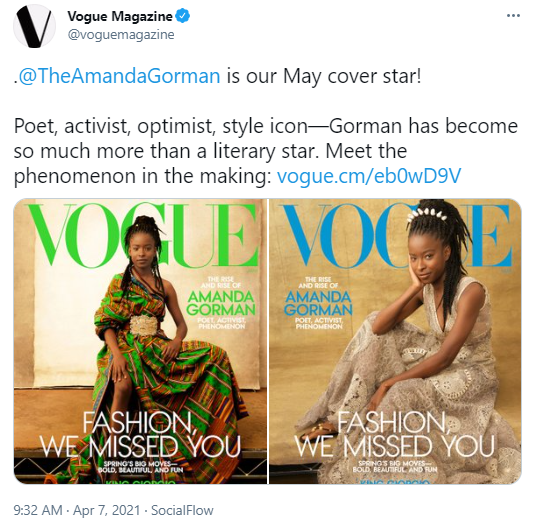 Gorman is breaking barriers in more ways than one. In both her written and spoken works, the award-winning poet leads the way for youth to use their voices and platforms to speak on the inequalities of Black bodies, race, and equity in society. In her interview with Vogue, Gorman states that she's working on two books that are set to release in September.
Besides this historic accolade, Gorman has other achievements worthy of recognition. In 2017, she was named the first-ever National Youth Laureate and graduated from Harvard. Gorman also has three published books that are flying off the shelves. Recently, she signed a deal with modeling agency IMG; and while she mentions to Vogue that she "loves how clothes shape her image," Gorman goes on to say, "When I'm in a campaign, the entity isn't my body, it's my voice."
This young, fierce, and talented Black woman has been praised by influential women such as Michelle Obama and Oprah Winfrey. It's clear Amanda Gorman has a bright future ahead of her; and we can't wait to see what she does next.
Header: Amanda Gorman
About the Author