Under flashing lights, loud music, and surrounded by over 40,000 people shouting "You can't stop me lovin' myself!", it's hard to not feel a surge of adrenaline coursing through your veins.
But what happens to that energy when you can no longer feel it the same way?
After a spectacular whirlwind 2019 with the Grammy-nominated South Korean group that's captured hearts all over the world, what began as a bright 2020 soon seemed like a lost cause. I would have hit my tenth BTS concert this year during the postponed Map of the Soul Tour, but those tickets have been collecting virtual dust in my Ticketmaster account since the spring; and will continue to do so until they're forcefully pried from my stubborn fingers.
Despite not being able to tour or appear in front of fans, BTS still managed to pull off a show-stopping year, from new albums, singles, series, and so much more. More, including snagging their first Grammy nomination for "Dynamite", landing multiple magazine covers, topping the Billboard Hot 100, a Tonight Show takeover, and releasing the only pop album of 2020 to be RIAA-certified platinum. In these days when we aren't able to gather together, loneliness creeps in, and loss is felt insurmountably, BTS has steadily been one of the lights leading through the fog, laughing and crying with us along the way.
We asked members of the fandom from different regions to weigh in on the significance of BTS, connection, and community during one of our toughest years.
---
This time in 2019, BTS was in New York for Dick Clark's New Year's Rockin' Eve with Ryan Seacrest, set to kick off a thrilling year by announcing the upcoming release of Map of the Soul: 7 not even a week later. Before the end of January, Map of the Soul Tour dates were announced as well.
Needless to say, it was an exciting time that can hardly be fathomed in the current state of the world; but just for a moment, let's look back on what BTS brings to the table with their live performances. If BTS blows you away with their larger-than-life stages on TV, you can imagine how they turn it up for their audiences around the globe.
Described by many as a "magical" experience, to attend a BTS concert is a lot like being fully immersed in the group's very own festival.
"It's completely otherworldly. From the second you step onto the lot it's like you have left Earth and entered BTS World from the crowds of people donning their most creative and inspired outfits, the tents of merch, the dancing, and little crowds of people gathering to meet online friends for the first time," said Yelissa N., a 25-year-old ARMY from the United States. "The atmosphere is joyous and there's a strong sense of community because everyone there is there for the same reasons. You'll never have an experience like that again, well until the next concert of course!"
Kirstin T., who got into BTS in 2014 and hasn't looked back, took it a step further: "It's amazing! The live concerts are the physical manifestation of BTS and ARMYs love for each other — we both come out energized and instantly miss each other."
The energy that BTS and ARMY bounce off of each other is palpable, thumping like a heartbeat until love is bursting from the rooftops.
Attendees of the group's Chicago stop for the Speak Yourself Tour in May 2019 got to witness this full force as rain and cold pummeled show-goers, concert staff, and BTS themselves on and off through the weekend. In the midst of unfortunate weather, both BTS and ARMY drummed their energy up tenfold, drawing strength to power through, wind and rain be damned.
Seeing BTS live is a special opportunity, once-in-a-lifetime for some; and with the influx of new fans from the Map of the Soul: Persona era and beyond, it was an event many were looking forward to. When it was all taken away due to the global crisis, the pain was felt from every angle with darkness closing upon us. Still, even in the face of a grim situation, BTS and ARMY did the best with what they could and leaned in.
"I think the pandemic — in a way — brought people closer together, and that includes BTS and ARMY. The pandemic pushed us to reach out to those we love, and those who make us happy when we feel anything but happy. So naturally, BTS and ARMY reached for each other. The sincerity is real," said Krystin P., 32. "The warmth is felt all over the world with their efforts to cheer us up, to reach to us and remind us we are loved and we are in this together. It's okay to be sad, it's okay to not know what happens next, but we are together."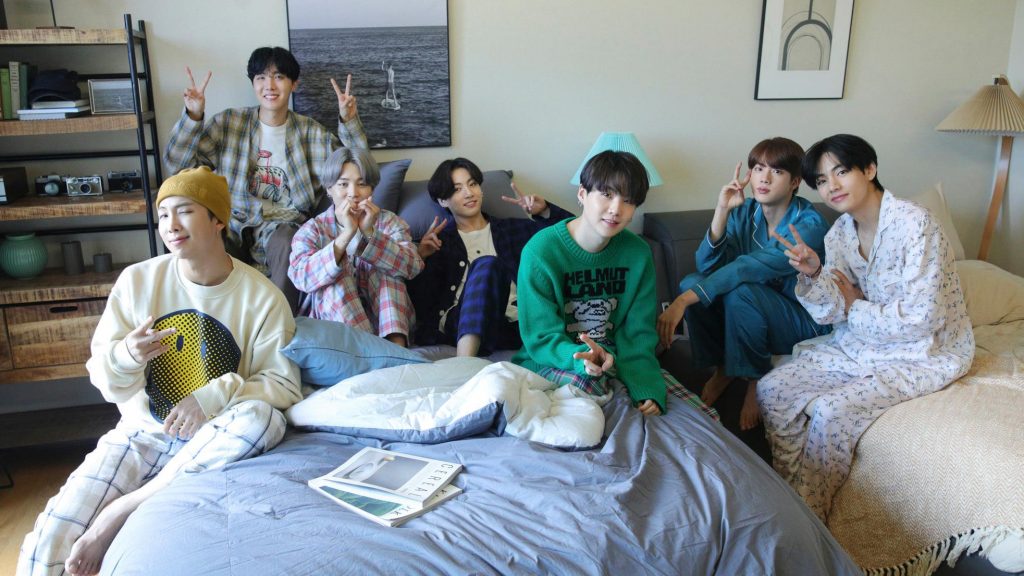 The Strength of BTS' Connection
If you were to do an Internet search on BTS, a vast amount of information would appear; from tweets, live streams, behind-the-scenes videos, and images from their official accounts to articles about the group that range from their multitudinous achievements to the latest BTS comment made by [insert celebrity here]. The results would also be overflowing with the messages of self-love and personal growth that the seven men have infused into their music and mindset from very early in their careers — messages that the fandom has truly taken to heart. BTS' Love Yourself series sparked a movement that manifested in acts of kindness, breaking more records, and even more firsts for the group, including a heartfelt speech at the UN. In the time it took you to finish reading this paragraph, they've probably accomplished something else spectacular.
It's interesting to watch professionals attempt to break down what makes BTS so popular. That's not to say the studies are laughable; it's impressive when you can put stone cold facts behind such a powerhouse, but you have to admit it's often beyond the scope of human understanding. The group themselves have occasionally been shown to be baffled by the immensity of their own popularity. It's as if something this major couldn't be simple, when that's not exactly true. There's no singular thing. It's many factors, all unfolding at the same time.
Ask an ARMY on the street what they love about BTS, and words like sincerity, humility, openness, talent, passion immediately spill out — along with the group's knack for spreading joy and hope.
"Their music, heart, energy, and love. They are incredible artists, but they're also people. Just like me. They experience wins and losses, love and heartache, just like me," said Krystin. "They take those feelings and turn them into art. They're authentic, they are sincere. BTS makes me happy and I will always hold that happiness close to my heart."
For Emily B., who's been on the frontlines of the COVID crisis in the United Kingdom, BTS is a grounding presence. "As a trainee nurse working in a pandemic, life feels really tough sometimes; yet, whenever I see BTS perform or just sit and talk to ARMY, I get comfort that I don't get from any of my other interests. It's hard to describe, just what they mean to me. To all of us."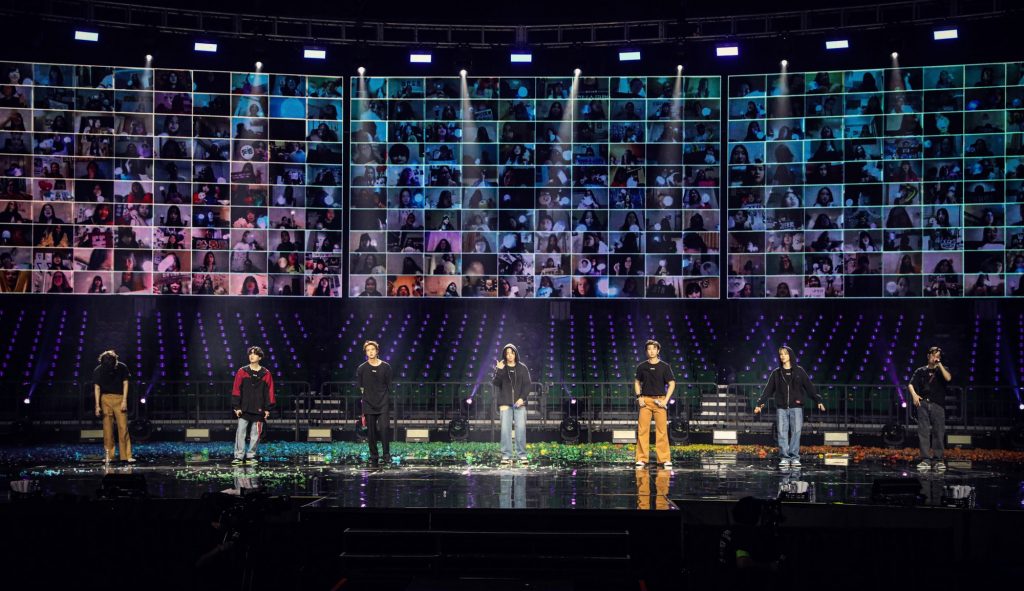 A Striking Year of Virtual Events
Digital content is not a new venture for BTS, it's what's made them so accessible over the years, raising their platform to be discovered by people all around the world. A common thread you'll pick up through watching interviews with the seven-member team is that they're a close-knit group. Yes, they have their own interests, passions, and projects; but being unified under the same goal as a group strengthens the bond.
In 2020 alone, BTS members released the following, whether solo or as a whole: "Winter Flower" (Younha feat. RM), Map of the Soul: 7, D-2 (Suga), "Eight" (IU feat. Suga), "Your Eyes Tell" and Map of the Soul: 7 – The Journey, "Still With You" (Jung Kook), "Dynamite", BE, "Abyss" (Jin), "Christmas Love" (Jimin), "Snow Flower" (V feat. Peakboy). And that's only musically.
In conjunction with their music releases were the group's VLive and YouTube streams, Run BTS and In the SOOP series, Break the Silence docu-series and film with commentary, numerous socially-distant appearances from Korea to America to Japan to India, and more. BTS also held their annual anniversary celebration, FESTA; and transformed the Map of the Soul Tour into a two-night virtual concert, Map of the Soul ON:E.
ARMY was along for the ride, and nothing demonstrated their devotion more than the marathon-viewing of past BTS tours during BANG BANG CON; a weekend-long showcase of concerts and fanmeets from 2015's HYYH on Stage to 2018's Love Yourself Tour in Seoul.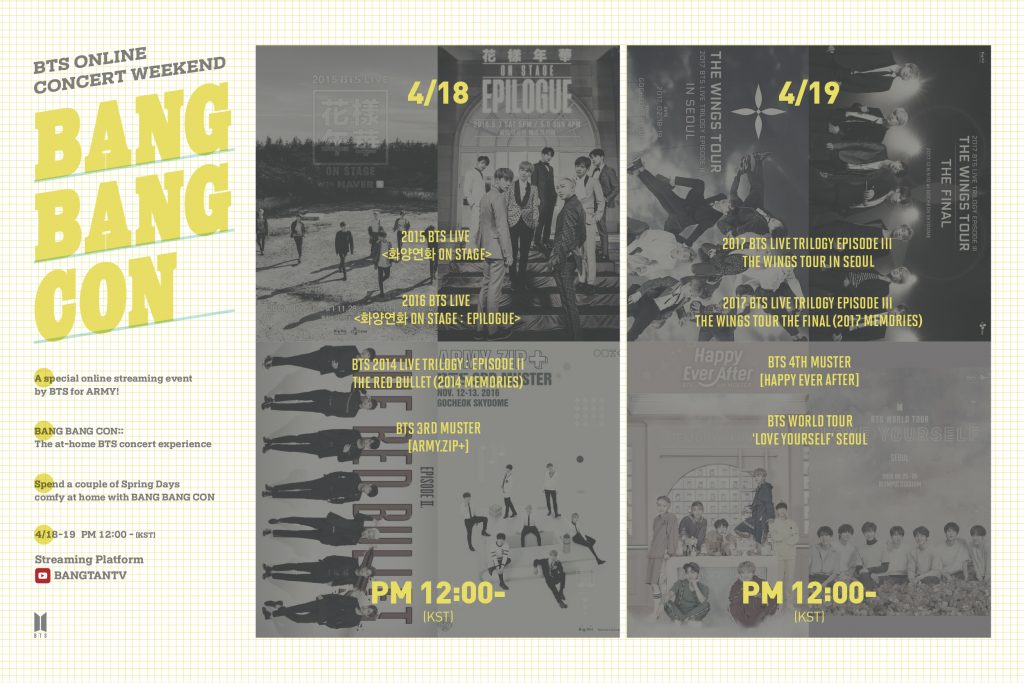 ARMY around the world, myself included, stayed up for hours of content; no matter the timezone, light sticks in hand and snacks prepared. While viewing, many fans took to social media to share their thoughts and reminisce with others who were either reliving the magnificence of BTS on stage or seeing the performances for the first time.
"I wasn't able to stay awake for two days straight but I joined in whenever I could! Seeing everyone's thoughts and updates on several performances on my timeline, live-tweeting what we were watching reminded me of when I would watch live streams of certain concerts or Muster events, having the time of my life in my room," said 22-year-old Alejandra R. "Although the performances weren't live, saying things like 'I remember how I felt the first time I saw this' and looking for [old] tweets was fun. Seeing how I felt back then and now has truly made me realize that I still connect to BTS the same way I did when I started liking them."
Fresh out of her rookie year of being a BTS ARMY, Krystin tuned in with other fans for a glimpse into BTS' earlier years. Lockdowns were already in place in many areas of the United States, so watch parties came primarily in the form of live-tweeting. "When it aired, I was just past my one year mark as ARMY. Most of those concerts I had never seen, and it was really exciting to watch their growth and sing along with all the songs I now know by heart. It was also right at the beginning of quarantine when I was meeting and making friends with ARMY on Twitter who were also feeling alone, scared, and overwhelmed," she said. "Bang Bang Con really helped to solidify new friendships I still have today."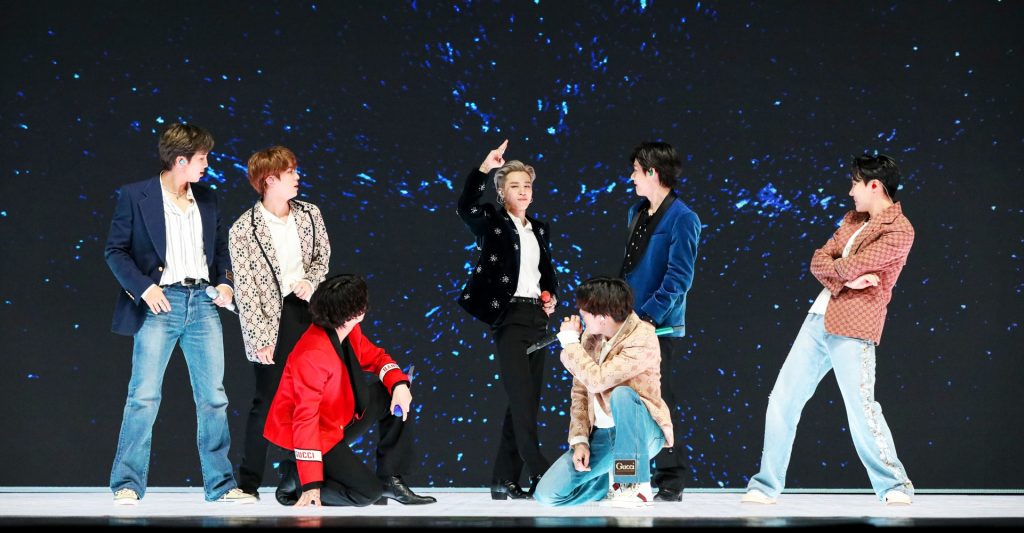 Fanships turned friendships between those who hoped to meet in real life at a BTS concert venue were at the mercy of COVID developments.
As quarantines remained in place, BTS adjusted to fit the new "normal" with virtual concerts, BANG BANG CON The Live and Map of the Soul ON:E. Their 2020 FESTA closer, BANG BANG CON The Live featured first-time performances of tracks from the Map of the Soul era that had yet to see the light of day, such as subunit tunes "Jamais Vu", "Respect", and "Friends". Other favorites, like "UGH!" and "Zero O'Clock" made their stage debut during Map of the Soul ON:E. Both concerts were an emotional time for BTS and ARMY, now kept apart due to unfortunate circumstances.
Once again, fans poured as much strength as they could into showing their support for the group, hoping it could be felt as much as BTS' love could be felt by ARMY.
"For two hours, any stress or problems I was facing or had faced were washed away," said Lucille, a 21-year-old from Spain. "I laughed, I cried, I missed them with all my heart, and yet, felt so connected. It's not the same as an in-person concert, but it's the closest damn thing an online platform will get to it."
BTS' determination to elevate their online shows, even in the months between BANG BANG CON and ON:E, was noticed warmly by Hannah S. of India. "Although I was still a new ARMY when I watched Bang Bang Con [The Live], I could see the effort that the boys had put in the performances, and the work was tripled during Map of the Soul ON:E," she said. "The sets and the detail to each and every performance was outstanding. I was glad that the boys could see ARMY virtually and hear them cheer for BTS."
In addition to the virtual audience, fans could take part in a Map of the Soul ON:E Exhibition, similar to the 2018 exhibition in Seoul that was later showcased in the States — only now it was online.
"I only saw a part of the exhibition but it just made me long for a peek into Big Hit's hidden vault of treasures," said Aby C. of Mexico. "We have so much content already but there's so much more we haven't seen. I always feel connected to them because they're letting us glimpse into their lives and their past, it's like looking through someone's photo albums."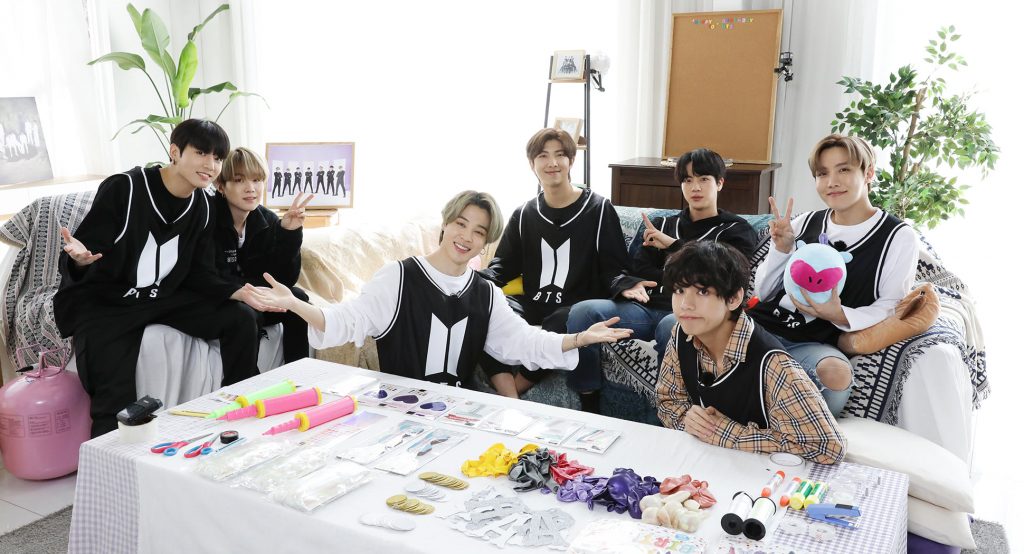 When I made myself comfortable and downloaded the software for the virtual tour, I was surprised to find that I could feel the same buzzing excitement that I felt when I visited the exhibition in New York. RM's voice greeted me as I "walked" towards the entrance, "ON" began to play, and the doors opened to reveal a carousel of BTS portraits in the center of the room. Like the physical exhibit, there were different stations for personal photos, music video sets, wardrobe, special video clips, moving portraits, lyric walls, and music rooms.
It took hours to see everything, and at the end, you could leave a brief message for the group and receive a digital photo card (mine was Jung Kook) before passing a large portrait of BTS on your way out. It's sad we weren't able to get this experience in person (seriously, it's one of the coolest BTS events I've ever attended short of the concert); but I hope that down the road it can make a proper comeback.
BTS and Connection on the Digital Wave
Even with so much on their hefty plate, BTS still made time to touch base with fans through VLive and YouTube. The livestreams are a main source of connection between the group and their fanbase that has ARMY scrambling for their devices when the notifications roll in.
"There's this rush of excitement I think all ARMY feel when they look at their phones and see a notification that BTS is live. If you're lucky, you may even catch it in real time. They are speaking directly to ARMY with excitement, joy, and often share words of comfort during a really difficult time that we all are experiencing together," said Krystin. "Between the BE album creation process, to Yoongi's KKUL FM, the celebration of Billboard Hot 100, or even Jimin typing loudly on a keyboard, it was a brief escape from the current anxiety and stress a lot of ARMY are going through."
"When you see them, it's like there's a connection just for you and them. I feel really happy by just seeing them smile," said Xyrra E. of the Philippines.
The sudden jump to all virtual everything is a lot to handle, especially for people used to feeding off of the energy of a live audience. Having so many fans based outside of Korea has worked in BTS' favor in that they're well-practiced in the art of forming a genuine bond from miles away. But with the choice between live or digital stripped away, it's given some ARMY a chance to examine the closeness they feel with the group.
"2020 gave me some more perspective about being an ARMY and what's important to me as an ARMY," said long-time fan, Kirstin. "For me, it's less about the merch and items I can collect, and more about the boys as people and the stories they tell through their music. Other than their performances, I enjoy content like In the SOOP and the lives with the members talking about BE the most. When I listen to my favorite song, it feels like they're right in my room with me, having our own jam session. That's what makes me feel close to BTS."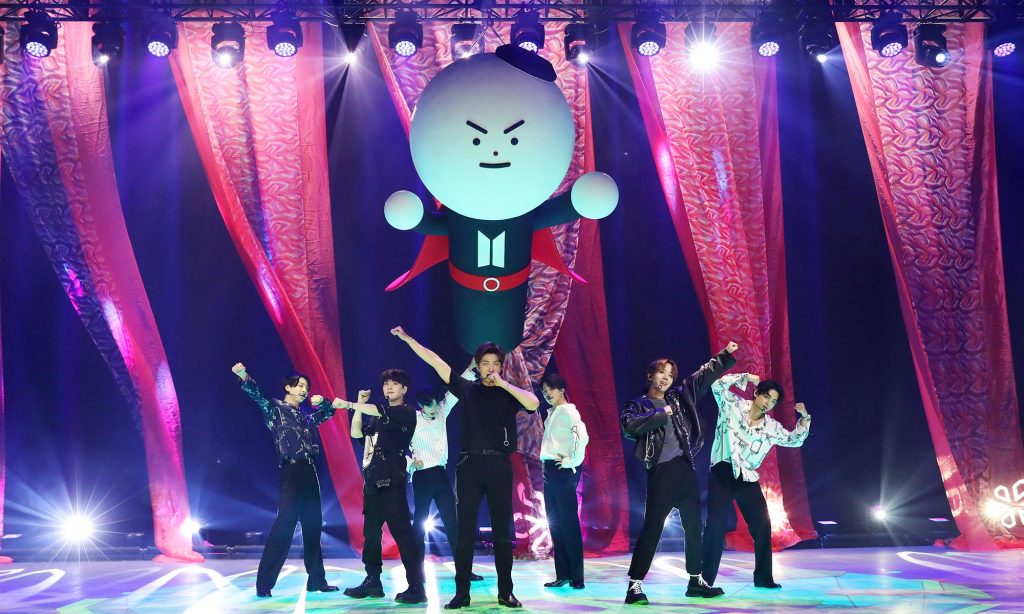 For some, the intimacy and distance could be felt simultaneously:
"[I feel] closer in the sense that I feel like I just keep getting to know them better and there's been so much content this year," said Aby, "but farther in that I want to see them and I want them to see us and that it just isn't possible right now."
An ARMY from Australia felt closer as the group revealed their relatable struggles during the pandemic. "In the beginning it felt distant because we knew they would be struggling, we were struggling, and there was nothing we could do at all to help. Then when they started to tell us about their thoughts and feelings and signaled that they understand what we are going through and they want to be there for us, it naturally made us feel the connection was strong."
For others, virtual has been the only option, even before 2020:
"I live in a country where BTS has never visited," said Lesedi L. of South Africa. "Thanks to all the lives, music, and shows BTS gave us this year, this is probably the closest I've ever been to BTS."
The impact of virtual events is sure to be a lasting one as time goes by and we gradually figure out the solutions to free ourselves from the pandemic. One thing that's certain, however, is BTS' reach has stretched farther than ever. The online concerts, series, and more provide an opportunity for fans to enjoy content together, regardless of where they are in the world. It's likely the only time that ARMY in Korea and international fans are able to come together to celebrate the group they all love. Virtual concerts will never replace the real thing, those feelings can't be fully replicated in digital form; however, it's an effective method of bridging the gap formed by oceans between us.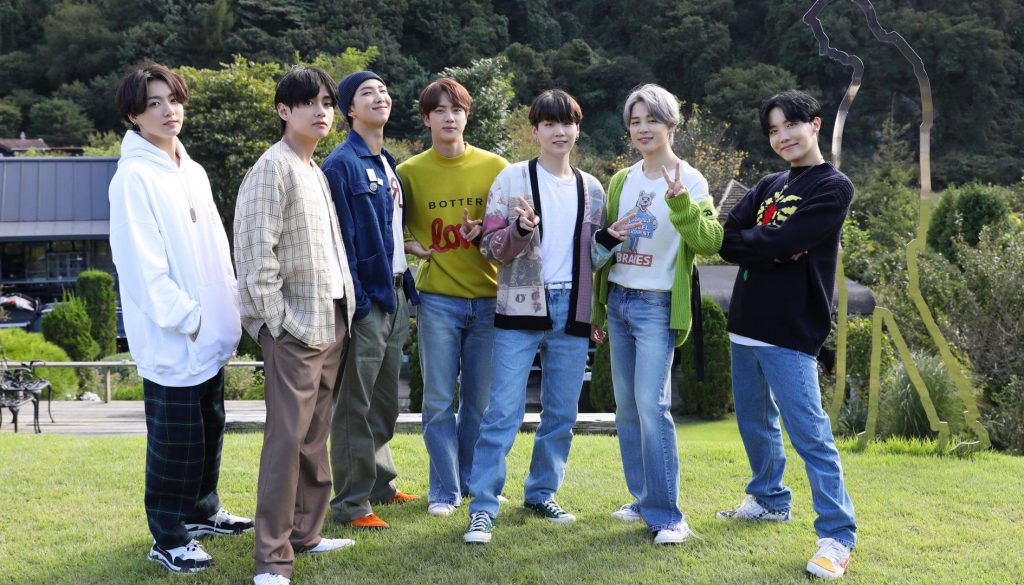 BTS + ARMY = Community
"Mutualism," said Alejandra on the flow of the BTS ARMY community. "We all come from different backgrounds, but we try to help each other as best as we can. It benefits all of us."
"Because BTS emphasized how important it is to truly love ourselves, that love continues to extend between ARMY. We uplift our family, we love our family, and we support each other. Like any family we can fight, or disagree, but we always come together to support each other and BTS," said Krystin.
Fandom isn't perfect, but when you find your people, that's where you should stick for the most positive experience.
When that doesn't work, look to the people who brought you to the fandom in the first place. For ARMY, that's BTS.
"Teamwork makes the dream work truly is the most fitting phrase for BTS and ARMY. With the fans' encouragement, loyalty and dedication, BTS were able to showcase their music and talents far beyond the expected," said Amy A. from The Bahamas. "The social consciousness of the artists and fandom is also truly remarkable. Despite the xenophobia, the narrow-mindedness and the haters, BTS and ARMY together prove to be a community of their own."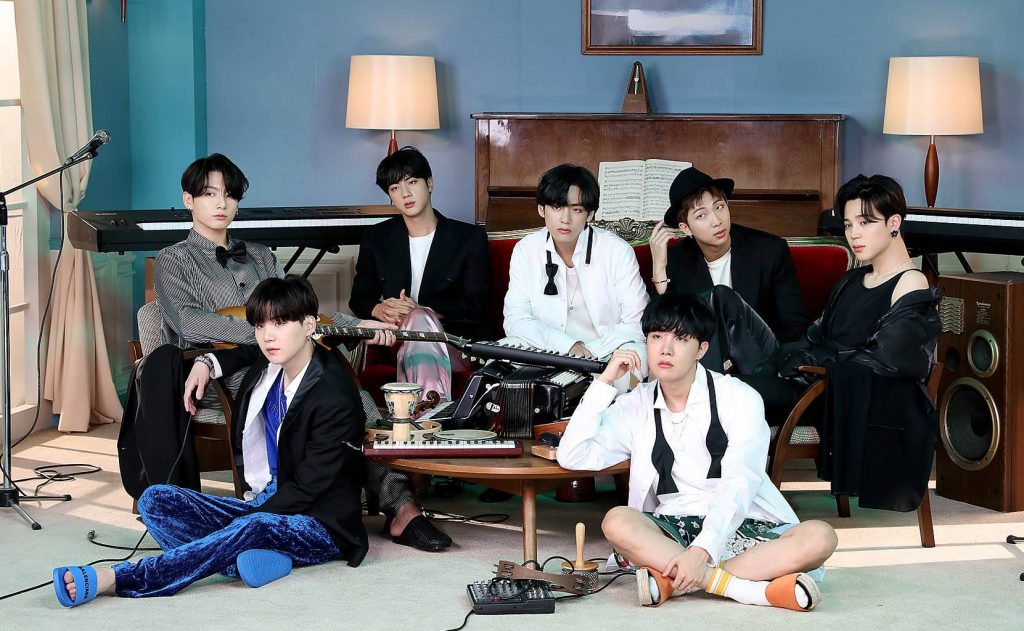 Describing the dynamic as "uniquely special", Krystin found that the connection between BTS and their fans is not the only significant bond, but that it's a love that also strengthened her personal relationships at a time when she felt most alone. "BTS and ARMY are an unstoppable force. It's a mutual love for each other. Because of BTS, I've reconnected with several old friends who I've grown closer to, and I've made brand new friends who I consider family. When the world shut down, the community came together and we comforted and loved each other. I've had weekly video calls for the last six months with a group of friends that I met on Twitter through this BTS community."
It's a sentiment echoed by many in different phases of their lives.
"There's a saying in the fandom — You find BTS when you need them — and that's exactly what happened with me. They were there for me when I needed them the most. I was moving to the UK and was going to be alone for the first time in my life, away from my friends and family in a city where I knew literally no one," said a 23-year-old fan from Malaysia. "BTS was there for me. Their music comforted me, and I'm touched by their lyrics and how sincere they really are."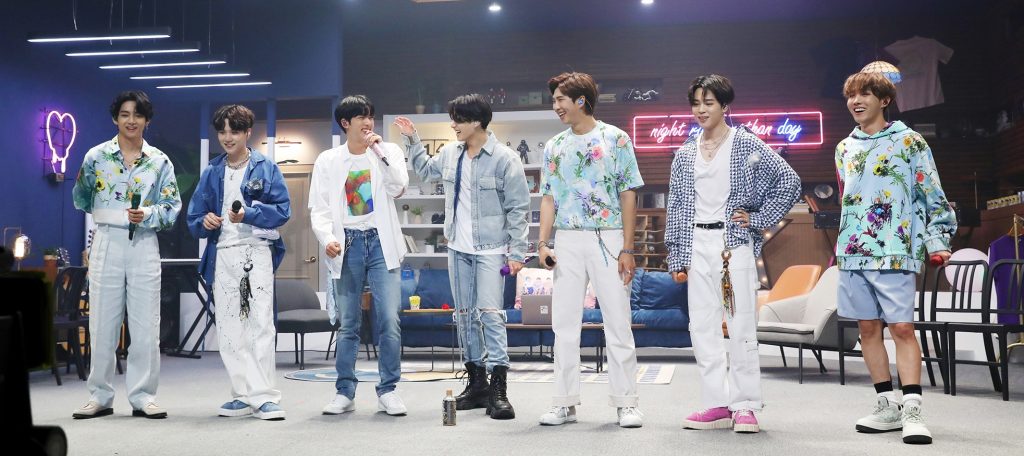 A Musical Bond for the Ages
In the end, it all comes back to the music. BTS' lyrics have proven to be helpful and healing — and we could all use a bit of healing right now. When asked when they felt the most connected to BTS, the overwhelming response was their songs. It's no secret that the boys compose tracks based on experiences and comments on society, all of which resonate with fans on a poetically fundamental level.
"I feel connected when their music sends positive messages to me. Their songs are about relatable problems that some of us have right now," said Marty M.
"Whenever I listen to the albums and read the lyrics, I realize how, despite our differences, we still are going through similar struggles," said Tiffany S. "The lyrics always speak to me, and in that way, I feel connected."
"A language barrier is nothing. Music transcends all of those little obstacles," added the UK-bound fan from Malaysia. "They don't feel fake or like they are trying too hard. It's so refreshing to see how they genuinely care about their fans and even after basically dominating the world they still are so incredibly humble and down to earth. It's easy to feel like you're their friend rather than just another face in the crowd."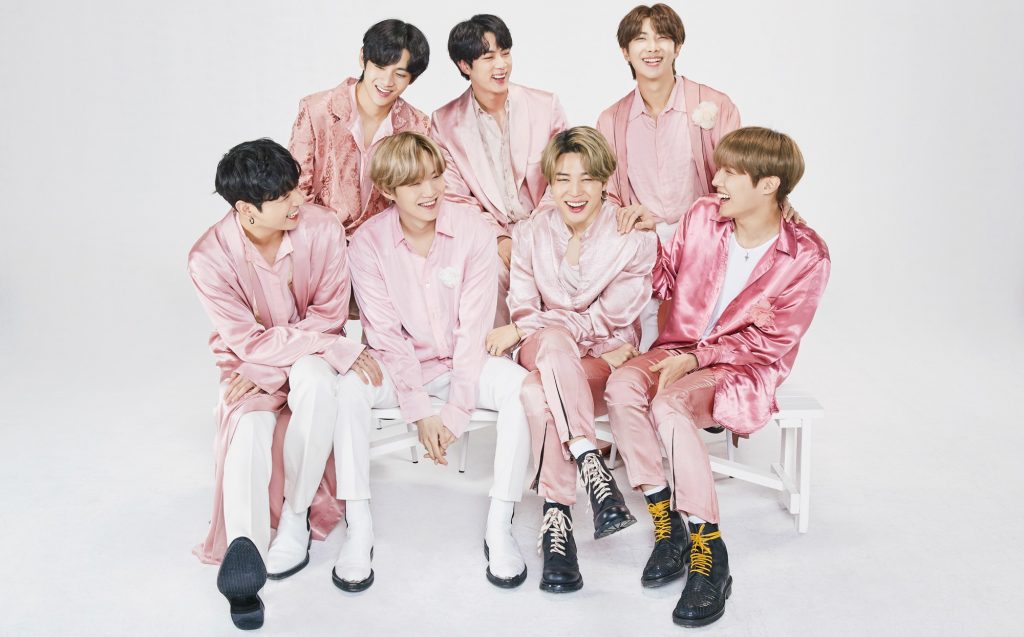 And when it's not the music, it's BTS' shining personalities that make an impact:
"The places in which their personalities are shown makes me feel connected to them, whether it's in an interview, VLive or even a heartwarming candid photo," said Amy.
Yelissa added, "It's like I'm getting to know little snippets of their life."
For Xyrra, 23, of the Philippines, it's a combination of both: "I feel their love with their songs, in their words, sincerity, and transparency."
"When I hear about their struggles, as someone in my mid-twenties, it is comforting to hear that people the same age as me, on the other side of the world, in much different circumstances than mine, still have problems. Problems we all face together," said Emily. "Being an ARMY can feel quite lonely at times, but when we were all together, singing with our boys, I've never felt more surrounded by friends."
Everything is New at Zero O'Clock
BTS said goodbye to 2020 with labelmates at the 2021 New Year's Eve Live presented by Weverse; sharing virtual collab stages with Steve Aoki ("MIC Drop Remix"), Lauv ("Make It Right"), and Halsey ("Boy With Luv"). Fans tuned in and tweeted their reactions; happy to send away a hellish year with some of their favorite people as they look forward to what everyone hopes will be brighter days ahead.
BTS leader RM, in a heartfelt note published on Weverse after the New Year's Eve broadcast, had touching words to say that offered a glimmering hope in bleak times: "Do remember they can't cancel the spring."
On March 4, 2021, the International Federation of the Phonographic Industry (IFPI) issued their annual global music report; officially naming BTS as the top selling artist of 2020 and winners of the 2020 IFPI Global Recording Artist of the Year Award.
Header: BTS (Big Hit Entertainment)
About Author