Delivering words of comfort in a world come undone, BE, the latest album by global supergroup BTS, made its arrival on November 20 with lead single "Life Goes On". Group members RM, Jin, Suga, J-Hope, Jimin, V, and Jung Kook took an even larger hands-on approach in production; self-directing the release from music to visuals to videos and more. The eight-track album includes megahit "Dynamite" as well as an interlude containing the band's lively conversation just after the single reached No. 1 on the coveted Billboard Hot 100 chart.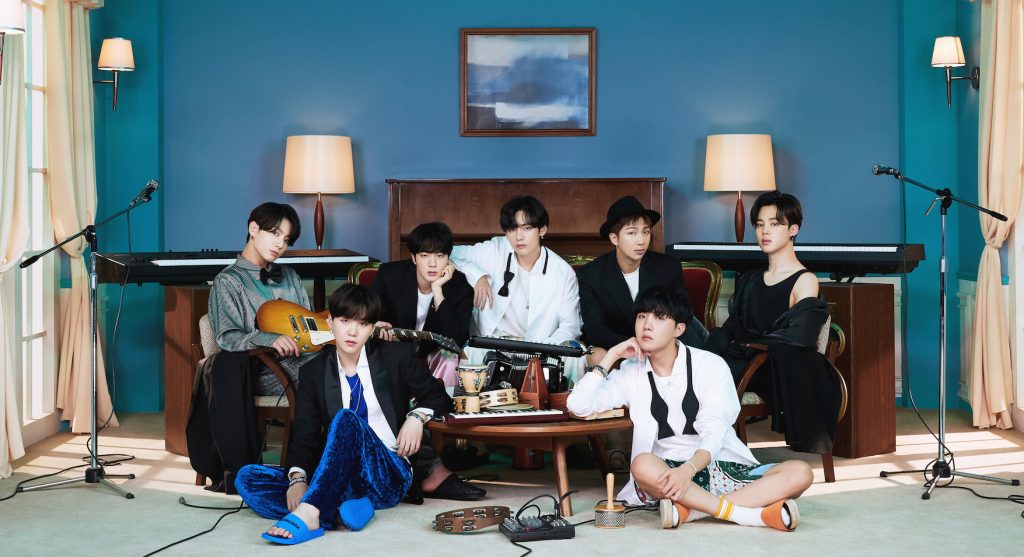 The release of BE is a fine example of impeccable timing. Not only is it unquestionably poignant, it's exactly the album we need right now. Expressing a gentleness amidst hopelessness, the music makes space for the authentic, complicated emotions that come with the current state of the world. Just as importantly, it looks toward a brighter future when the frayed connections of community can once again be made whole.
"BTS opens themselves up to express their mixed feelings about this situation — fear and anxiety mingled with the determination to overcome all this," said a press release from Big Hit Entertainment. "The album contains the band's emotions and ruminations they had throughout this year, and the story of 'us' continuing the existential journey. That is also the reasoning behind the album's title, BE, that stands for 'to be' or 'existence' and does not abide by any form."
From 2 Kool 4 Skool to BE, BTS has constantly shared universal experiences through messages in their music. Their relatability on a human-to-human level has endeared them to many all over the globe; forging unwavering bonds by showing listeners that they're seen and understood.
The strength the group has provided to their fanbase (ARMY) is reciprocated from ARMY to BTS; both drawing on each other's support to uplift, grow, and keep moving forward.
In their twenties and already masters of their craft, BTS continues the trend of outdoing themselves with BE. There's a steadiness built into the album's musicality that preserves a measured temperament despite the crescendo in energy from the first track to the last. As a result, there's a clear cohesiveness throughout the project regardless of whether a song is heavily-acoustic or leans more towards record-scratching hip-hop.
Vocally, it's a serving of some of BTS' best work; for the rappers (RM, Suga, J-Hope) and vocalists (Jin, Jimin, V, and Jung Kook) alike. The group has been known to experiment with sound, pushing themselves into new territory the more they develop as musicians to further expand their repertoire. The diversity of each member's vocal colors and styling has consistently been one of their strong points; layering beautifully as they blend on the tracks. Those who've made the trek through BTS' discography from the beginning will note the confidence that weaves through the vocals on BE as the artists lead with skills that may have only been tested in earlier songs.
"Life goes on, let's live on."
— BTS
Lead single "Life Goes On" was hinted by BTS during their speech at the 75th UN General Assembly on September 23, 2020. In the album's press release, the song is described as a comforting "alternative hip-hop with sentimental acoustic guitar sounds". RM, Suga, and J-Hope are credited on the track; and youngest member Jung Kook directed the music video that provides a touching interpretation of their lives during quarantine. Leader RM, who cycles as a hobby, brushes dust off his bike that's perched on their balcony to show activities set aside until brighter, safer days. There's an emotional shot of V spotting an empty Seoul Olympic Stadium in the distance; moments before the video cuts to BTS dressed onstage in their concert regalia — a wistful reminder of a 2020 world tour that couldn't happen.
BE introduces two new subunit songs that quickly garnered excitement upon the reveal. Collaborating with Australian electronic musicians Cosmo's Midnight, the quartet consisting of Suga, J-Hope, Jimin, and V shines on "Fly to My Room"; a dreamy, bluesy piano-laden track with gospel elements that was first teased in a concept clip early in album promotion. "Stay", featuring trio RM, Jin, and Jung Kook, is a bouncy anthem of togetherness that packs enough power to imagine the thrill of seeing BTS performing it live in a stadium someday; surrounded by an ever-jumping crowd.
Guitar ballad "Blue & Grey" expresses feelings of loneliness and sorrow, not shying away from a looming darkness. Lyrics come out in hushed tones and the harmonies are delicate, illustrating the mood of one searching for warmth after burning out cold. During the BE comeback special on VLive, it was revealed that the track was to appear on V's mixtape, but the members encouraged him to include it on the group album.
Following "Skit", in which an excited BTS discusses their first Billboard Hot 100 chart-topper, "Dynamite"; the album takes an auspicious turn.
"Telepathy" and "Dis-ease", which were teased in BE concept clips, flow into each other with ease, both possessing the electricity of music genres of the past with a modern twist.
Formerly one of Suga's discarded tracks before Project Manager Jimin stepped in, "Telepathy" takes on the funk of the 1970s-1980s in a happier spin with lyrics about companionship even when faced with social distance. Old school hip-hop is honored through J-Hope-led "Dis-ease"; a head-bopper that puts all the best qualities of BTS' skills at the forefront. The bridge brings the song to an exciting peak like rays of light bursting through the clouds, expressing a goal of letting go and living as the song plays out. Closing the album with a final shot of joy is "Dynamite", successfully completing the musical journey.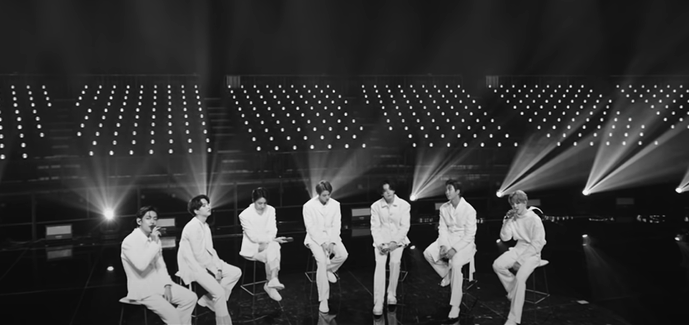 BE is a lesson in wholeness and grace. Taking the bad with the good, it acknowledges heartbreak and pain without the glamorization of toxic positivity.
It's a brilliant example of BTS remaining true to themselves; opening up about their own struggles in an effort to provide consolation to others going through the same experiences. It's further proof that no matter where we are in life, whether our days are spent in classrooms or in and out of rehearsals, there's an invisible cord that connects us at our innermost points.
"Life goes on, let's live on," say BTS. It's a statement that's as much of a guide as it is a display of vulnerability. We're on a path we must walk together to overcome; acknowledging our hardships while still treating ourselves with kindness and allowing moments of delight. BE is a beautiful triumph for the long days, offering a glimmer of hope that sunlight is just over the horizon.
The creation of BE was well-documented through videos on BTS' YouTube channel, BANGTANTV, in their Log (ON) series. Fans were updated (without many spoilers) on the group's process through pre-recorded planning and production sessions as well as livestreams. The first video, featuring V, was livestreamed June 9, 2020.
Have you listened to BE? What's your favorite song on the album?
Leave us a comment and let us know your thoughts!
Header: BTS (Big Hit Entertainment)
Source: (x)
About Author