Just when we think that the year has given us enough surprises for a lifetime, Taylor Swift drops a bomb: a surprise album entitled folklore. She announced it less than twenty-four hours before the release, overwhelming fans with joy and excitement.
Swift shows that she knows the work she wants to produce – and she's determined to succeed.
She accomplishes a lot of firsts with 16 new songs and one deluxe track, which is highly impressive for someone with a sixteen-year career, starting from 2004 when she signed a music publishing deal with Sony/ATV. It is extremely evident with this album that her confidence is grounded. She's doing what's right for her, and we love to see it!
Swift, once again, demonstrates her brilliance with a groundbreaking album. Everyone should genuinely give this one hour and three minutes of goodness a chance, even if it's not a genre they're used to.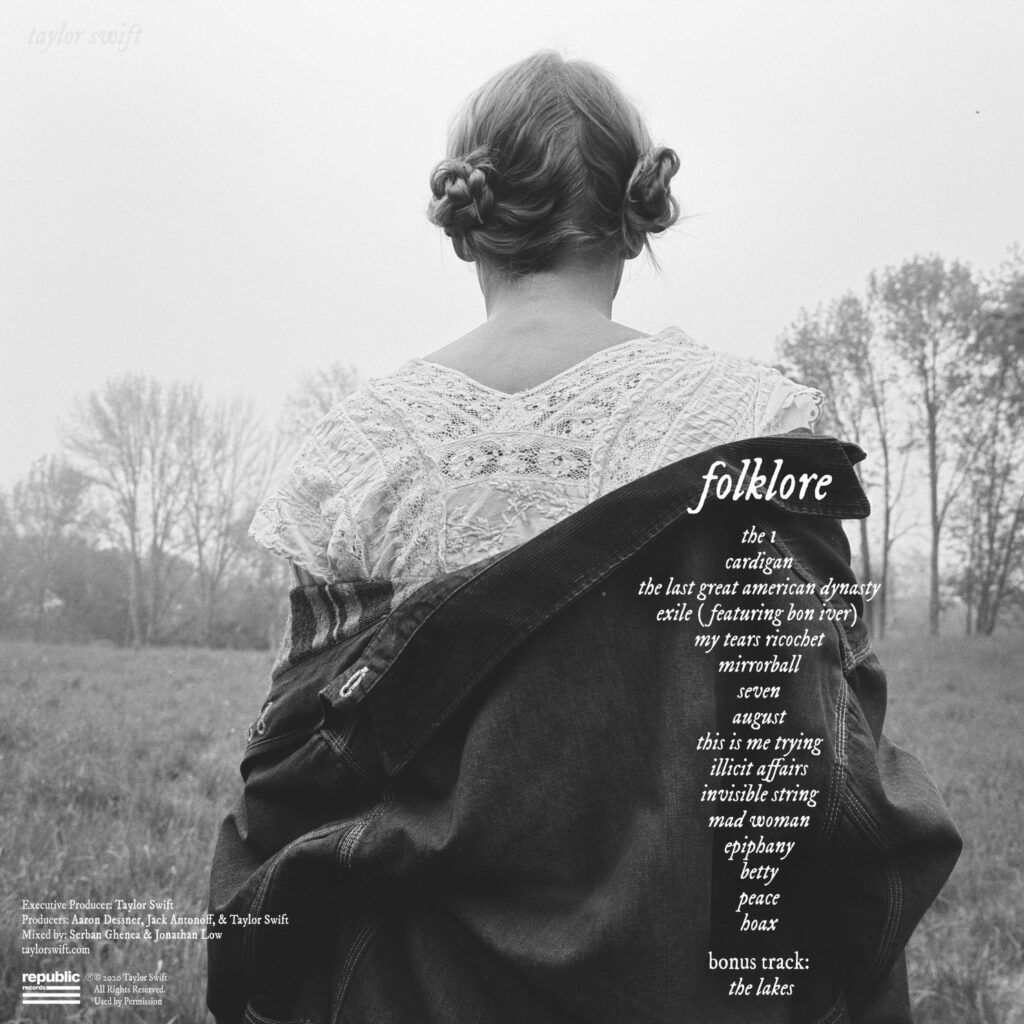 Leaves comfort zones behind
Since her self-titled album back in 2006, Taylor Swift always had a 2-3 year gap between studio albums. This gives her enough time to tour her previous album and prepare for the next one. folklore could have been a surprise album released in 2021 and everyone would have still gone wild over it, but she chose to drop it a mere eleven months after Lover.
"Before this year I probably would've overthought when to release this music at the 'perfect' time, but the times we're living in keep reminding me that nothing is guaranteed. My gut is telling me that if you make something you love, you should just put it out into the world," she said in an announcement approximately sixteen hours before folklore was officially released.
She wasn't afraid to stop "doing it by the book" because she knows that she no longer has to prove herself. Her fans are used to decrypting mysterious hints and waiting for singles to drop, but evidently, she's at the level where she can release an album completely unannounced and still have it top the charts.
Explores a completely new genre and style
Speaking of leaving comfort zones behind, the real surprise of the album is its genre. In the same way that Lover was a huge jump from Reputation, folklore could not be more different from Lover. It is categorized as "indie folk," setting it apart as a completely new genre from her previous studio albums. Even more, all the song titles are stylized in lowercase.
She explores the sound that fans so desperately wanted to hear again after "Safe and Sound"; and also wrote songs from different points-of-view, something she has not done before.
According to her album prologue, she stepped into other people's shoes and wrote about or from their perspectives.
This also explains the meaning of the album name, where she tells a tale through the songs; old stories that are orally passed down and talked about. Swift let her imagination run wild during isolation, something all of us can relate to. The album is where "the lines between fantasy and reality blur and the boundaries between truth and fiction become almost indiscernible."
Features great new collaborations
Her album will perhaps forever go down in history as that album recorded in isolation during a global health crisis. Perhaps more artists will follow suit. It's quite a feat to write and compose a whole album worth of songs during this time, and she was even able to collaborate with some producers and artists remotely.
Aaron Dessner, whom Swift approached in late April, co-wrote or produced 11 of the 16 songs on the album. William Bowery, the theorized pseudonym for her boyfriend Joe Alwyn, also co-wrote two songs with her. The album wouldn't be complete without Jack Antonoff, who she dubbed as "basically musical family at this point." Prior to folklore, he also collaborated with Taylor Swift for 1989, Reputation, and Lover.
Most fans were most excited for the collaboration with Bon Iver, an indie folk band whom some people are already familiar with. They co-wrote the song and frontman Justin Vernon sang on the fourth track, "exile." Hearing their participation on the album only drove the point further that this album is going to be one-of-a-kind.
Draws terrific imagery with descriptive lyrics
We already know that Swift is a fantastic songwriter. She has consistently given us verses and bridges that are easily recognizable and undeniably iconic, and folklore is no different. There are signature Swift lyrics like "In my defense, I have none" (from "the 1") and "Hell was the journey but it brought me heaven" (from "invisible string").
"When I felt like I was an old cardigan under someone's bed, you put me on and said I was your favorite," is from the first single of the album, "cardigan". Its music video was released at the same time as the album. Lyrics like this are so specific as an experience, and yet, universally relatable.
Swift is doing what she does best – telling stories in masterful lyrics.
Meanwhile, "my tears ricochet," a title already amazing in itself, has the line: "You had to kill me but it killed you just the same". The entirety of folklore is a piece of art with a plethora of great lines, displaying Swift's unquestionably top-notch skills.
Whether you think folklore is her best album yet or it's just some pretty quarantine music, nobody can deny that Taylor Swift has made a big impact in the music industry. She proved that by winning the "Artist of the Decade" award at the American Music Awards last year; and by being the only artist in the top ten of Billboard's Greatest of All Time Artists Chart who debuted in the 21st century.
Taylor Swift outdoes herself in so many aspects, and she continues to impress with folklore. With her eighth album, she expects us to pass down the folklore that she's told. Judging by the fact that the album has already broken many records, it's evident that everyone's already doing just that.
Cover Image: Taylor Swift (Republic)
About Author