Growing up, my family always had dogs — and it was one of the things that I missed most when I moved to Ireland.
It never seemed like the right time, though, to adopt one of my own. Between living in a dorm and working unpredictable hours, I always felt like it wasn't a good time to adopt a four-legged friend.
But Whiskey — also known as Whisko, Whiskosaurus Rex, Whiskeyface, and Munchkin — came into our lives at the perfect time. My husband and I adopted him a little more than two years ago and, really, I'm convinced that he picked us to be his family rather than vice versa. He's a loveable terrier-collie cross who, at ten years old, is a total puppy at heart — and has completely changed our lives.
Since we got him, there has been countless weekends in the park playing soccer — he's an excellent goalie, it turns out — and mini-adventures around the city; afternoons picking out new treats and toys, or curled up on the couch giving him belly rubs on demand. After all, how could you say no to that face? And he was even the guest of honour at our wedding, bow tie and all.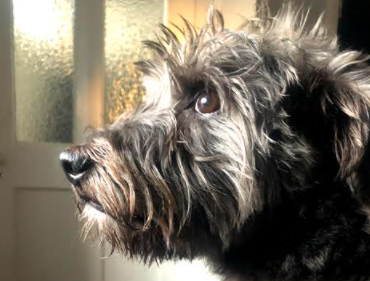 But as much as he's changed our lives over the last few years, I never expected him to be such a lifeline during the chaos of 2020 — or that he would teach me some really important lessons about my mental health.
During the first lockdown, it was way too easy to get drawn into the news vortex: the predictions of what may (or may not) be happening next and the steady stream of pandemic updates; it was all overwhelming. But Whiskey was a wagging reminder to make sure that I actually got out of the house and away from my screen — at least for a little while. With restrictions on how far away we could go for the first few months of lockdown, he also helped me discover new areas in the neighborhood and meet people that I might not have normally met (from a social distance).
And despite his requests to play fetch (or his demands for belly rubs), he's also made the whole move to working from home a lot easier. During a time when the lines between work life and personal life can be a bit blurred, he makes sure that I take breaks — and that I actually log off for the day when I should be, so that he can go for his walk.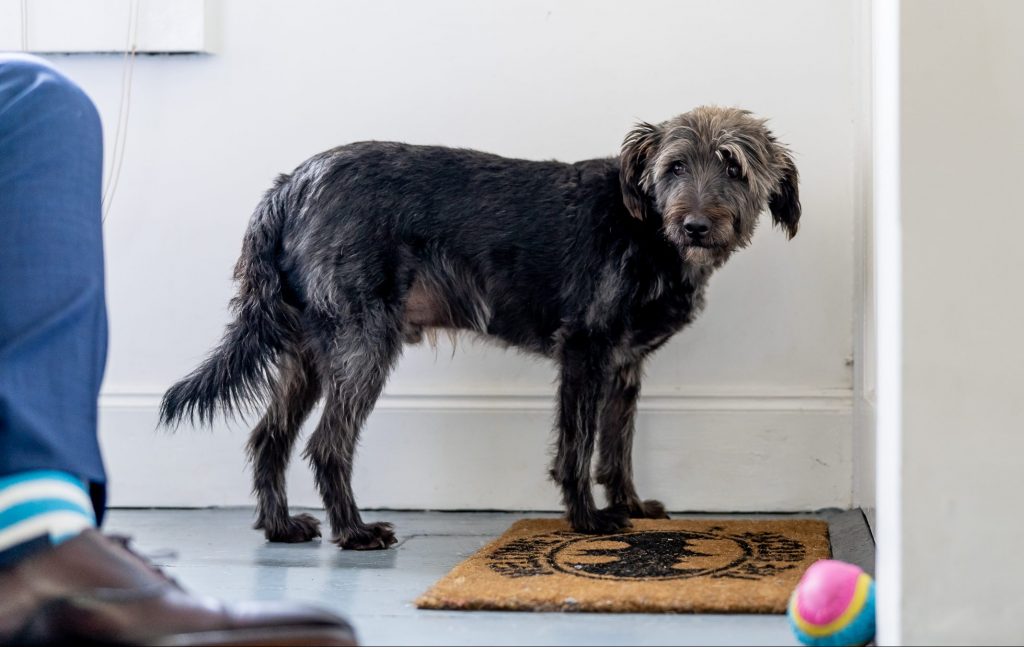 It wasn't until the country started to get ready to go into its second lockdown that I realized the most important thing I learned from Whiskey: how much I had needed to slow down, and that I needed to be OK with slowing down; to live in the now; and to just be kinder to myself.
There were days where I was feeling particularly anxious and overwhelmed; and it didn't help that I ended up going freelance just after lockdown began. But it was like he knew when I needed him the most. When I was on the verge of being drawn back into the news spiral, or when I needed to get outside and clear my head, Whiskey would drop his favorite ball on my foot to get me to play fetch with him — or even plop himself in front of the door and ask to go out, so that I'd get some time away from the screens.
Then, there were the days where I was worrying about whether I'd been productive enough; or the ones I spent trying to push myself to get back to the work levels of "before". But I never quite achieved them, and — as Whisko helped me realize — that's totally fine.
A dog doesn't worry about all the 'what ifs' or the 'should-have-beens': they're just happy to be.
Or, in Whiskey's case, happy as long as there's a steady supply of snacks, a nap or two in the afternoon and plenty of walks — he's all about the things that are simple, but enjoyable. The kinds of things that I developed a new appreciation for over the last few months.
While there are dozens of images that come to mind when I think of 2020 — some good, some less so — it's Whiskey, the adventures I've had with him, and the lessons I've learned from him that I think of most often and that I know I'll keep with me for years to come.
Photos courtesy of Keeley Ryan.
About Author