It's once again that special time of year! Today kicks off the first day of BTS' annual birthday celebration, FESTA. This year is extra special as it marks the 10th year since BTS' debut! During the first two weeks of June, an explosion of new and unreleased BTS content hits the internet from songs to videos to unexplored subunits; choreography videos; heartfelt group gatherings; and more. The event is capped with a party on or around BTS' anniversary on June 13, during which the group plays games and performs a selection of songs.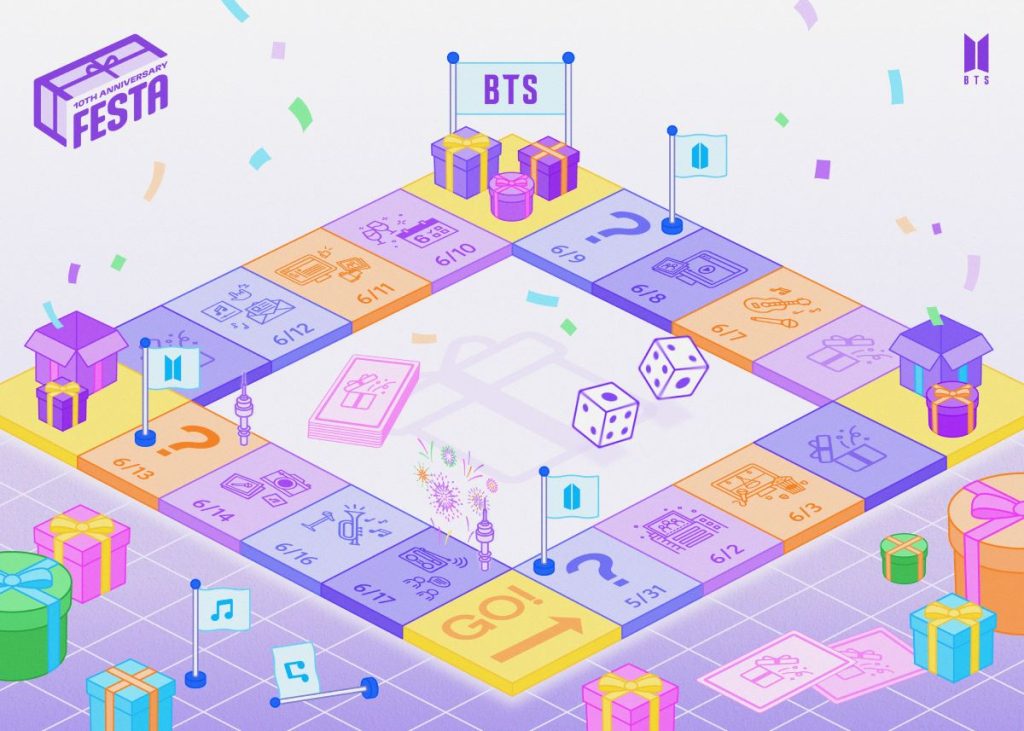 The 2023 BTS FESTA opened with an announcement of BTS PRESENTS EVERYWHERE. A digital space for ARMYs appeared that gradually filled as the days passed with photos, videos, events, activities, and more.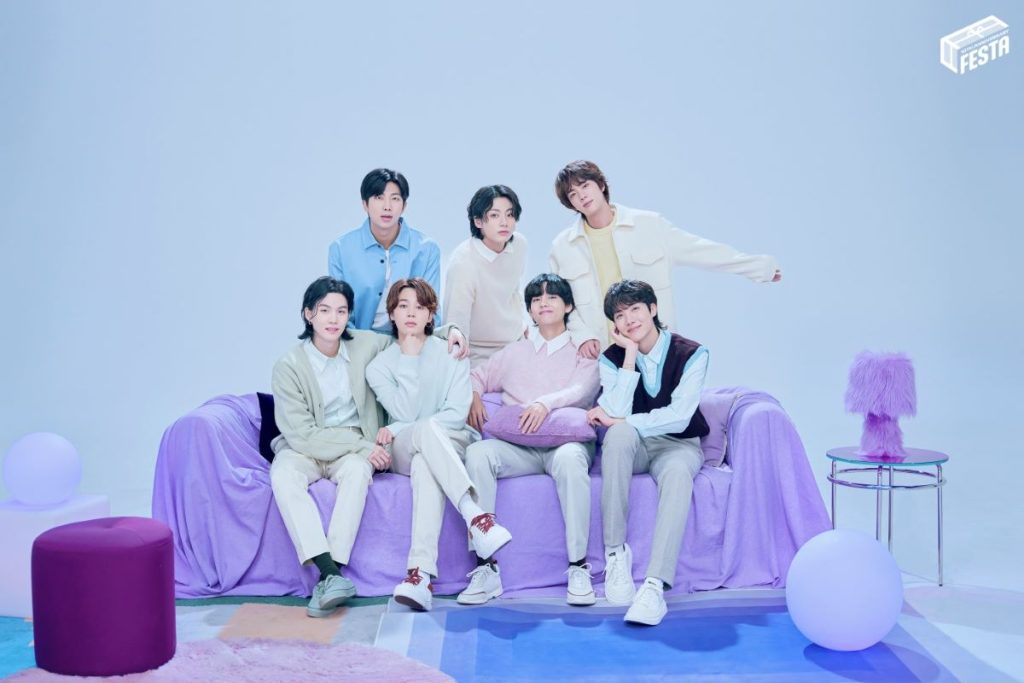 Whether you're new to FESTA or a seasoned BTS ARMY, here are some highlights from the annual celebration:
Family Portraits
Every year, BTS takes commemorative group photos, both serious and silly in nature! As they've been doing them from the beginning, the images capture the group's growth over time, providing fans with a way to look back on how far they've come.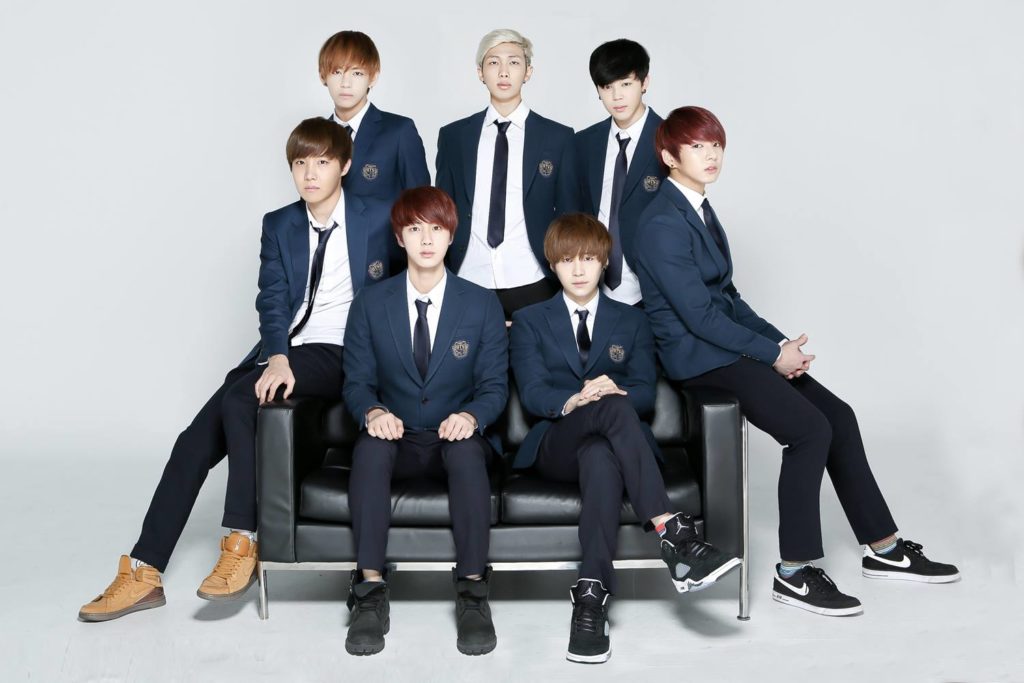 View family portraits throughout the years:
Birthday Chef Jin – FESTA 2014
For the group's one year anniversary, they live-tweeted Jin making their birthday meal. The series of tweets shows the group preparing food and snapping pictures of themselves posing and setting up for the small celebration. The end result is a sweet, nostalgic snapshot of a young(er) BTS gathered around a table of food in honor of their first year together since debut.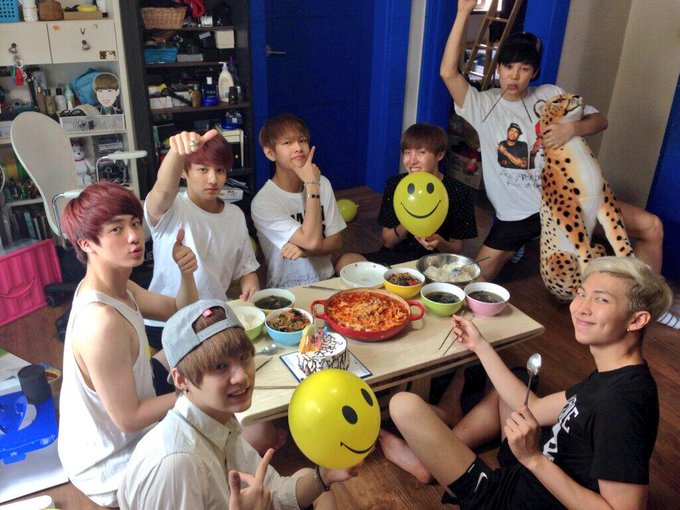 BHC Radio, BTS KKUL FM 06.13 – FESTA 2015
Some of the best and most heartwarming moments are those that the BTS members spend together. In 2015, the group hosted a radio show called BTS Kkul (Honey) FM 06.13; gathering around a table with a script (that they didn't always follow) and their natural charm. It's interesting to watch them talk about their dreams back then and see how they've exceeded them now that they're eight years into their careers. As a group, BTS is bound to reminisce and tease each other as much as they get honest with one another; and this hour-long show doesn't disappoint. Grab some popcorn and settle in to be entertained by BTS simply being themselves.
It's not the last time we heard from KKUL FM! BTS went on to do a handful of additional episodes over the years, and the show was brought back again during their seventh year together. In 2020, Suga hosted a series of KKUL FM 06.13 radio shows on V Live that started in April and ended on the group's seventh anniversary on June 13, 2020. Each installment featured a different member of BTS; up until the last episode in which all seven members make an appearance.

Listen to DJ Suga's Honey FM 06.13 radio series from 2020:
Premiere | RM | Jin | V | J-Hope | Jimin | JK | BTS
For more BTS radio shows, family meals and parties, check out:
Honey FM 06.13 (2014) | Honey FM 06.13 (2016) | Honey FM 06.13 (2017)
BTS Dinner Party (2018) | Bangtan Attic (2019) | BTS Birthday Party (2020)
"Baepsae" Dance Practice – FESTA 2016
Always a crowd-pleaser, "Baepsae" (or "Silver Spoon") was released on The Most Beautiful Moment in Life, Pt. 2. In its 2016 dance practice, the group plays Rock, Paper, Scissors to see which member will take over the freestyle dance break at the end, a role J-Hope typically assumes in the live stage. While "Baepsae" is no longer performed in its original form, BTS incorporated the anthem for underdogs into a medley during their record-breaking Love Yourself Tour and its encore, Speak Yourself.
3J at BTS HOME PARTY – FESTA 2017
BTS is known for beautifully-synchronized choreography, and this stage is a brilliant showcase of the individual dance styles between a smaller group of members. Roommates teamed up to form subunits at 2017's BTS HOME PARTY, which joined together J-Hope, Jimin, and Jungkook — also known as 3J. The trio puts on an unforgettable dance performance with each member being given a spotlight moment; featuring songs "CoCo" by O.T. Gensasis, "Take You Down" by Chris Brown, and "Don't Wanna Fall in Love" by Kyle.
"Ddaeng" – FESTA 2018
"Ddaeng," a diss track released during FESTA 2018, was an immediate hit with the BTS ARMY. The song, written and performed by the group's rappers, blends traditional Korean instruments with trap music. The title refers to a term used for an incorrect answer, but it's also a high-scoring move in the Korean card game Hwatu. The combination of meanings caters to the wordplay in the song, denouncing those who look down on the group while also acknowledging their own success.
A live stage of "Ddaeng" was first performed by RM, Suga, and J-Hope during BTS PROM PARTY -RE;VIEW & PRE;VIEW-. It made a second appearance during BTS' 5th Muster [Magic Shop] (2019), with the vocal line taking over for the rappers; quickly becoming a viral moment for the fandom. We're still holding out hope that the song will someday be released on streaming services.
"Euphoria" (DJ Swivel Forever Mix): JK Memories by BTS – FESTA 2019
In 2019, BTS dropped the video that would go on to launch a billion tears. A piano-led remix of Jungkook's solo track "Euphoria" by DJ Swivel served as the soundtrack for a montage of JK-focused clips provided by BTS members. The endearing clips show maknae Jungkook through the eyes of his bandmates during downtime, on video shoots, goofing off between performances and rehearsals, and more. Bet you can't watch the whole thing without it tugging at your heartstrings… (Go ahead, try it!)
If you'd like a deeper dive into the track itself, DJ Swivel does a detailed breakdown of the "Euphoria" Forever Mix production process in an episode of In The Mix on YouTube. There's even a behind-the-scenes video of Jungkook recording adlibs for the "Euphoria" that you can watch on BANGTANTV.
"We Are Bulletproof: The Eternal" Animated MV – FESTA 2020
For the 2020 FESTA, an animated music video was released for "We Are Bulletproof: The Eternal;" the finale to the hard-hitting "We Are Bulletproof" series. The video shows the members' transformation through their eras from 2 Kool 4 Skool to Map of the Soul: 7. Throughout their discography, BTS expresses many variations of love. That love ranges from the love of your family to the love of your first passion to the love between friends to the love of their fellow group-mates and beyond. Significantly different from the previous rap-heavy tracks of the "We Are Bulletproof" trio, "Eternal" is a tender reminder that while BTS started as seven — with ARMY, they're infinite.
SOWOOZOO – FESTA 2021
'Proof' Live – FESTA 2022
Episode 12 of SUCHWITA with Jin – FESTA 2023
Honorable Mentions:
"Black or White" Dance Performance – BTS PROM PARTY, 2018
Jimin and Jungkook join forces for an electric dance performance to Michael Jackson's "Black or White". The performance was unfortunately cut after the live broadcast of PROM PARTY -RE;VIEW & PRE;VIEW- due to copyright issues; but the memory of the boys performing the hit song in black and white suits lives on forever.
"Butter" spreads across the No. 1 spot on the Billboard charts, 2021
Though not technically a FESTA event, BTS hit a major milestone on the first day of their 2021 birthday celebration! Their single "Butter" reached the No. 1 spot on Billboard's Hot 100, Global 200, and Global 200 (Excluding U.S.) charts. It's BTS' fourth No. 1 single, following "Life Goes On," "Savage Love", and "Dynamite". The accomplishment lands the group on a shortlist of only six other artists who have had four Hot 100 No.1 hits in less than a year; including The Supremes, The Jackson 5, and Mariah Carey.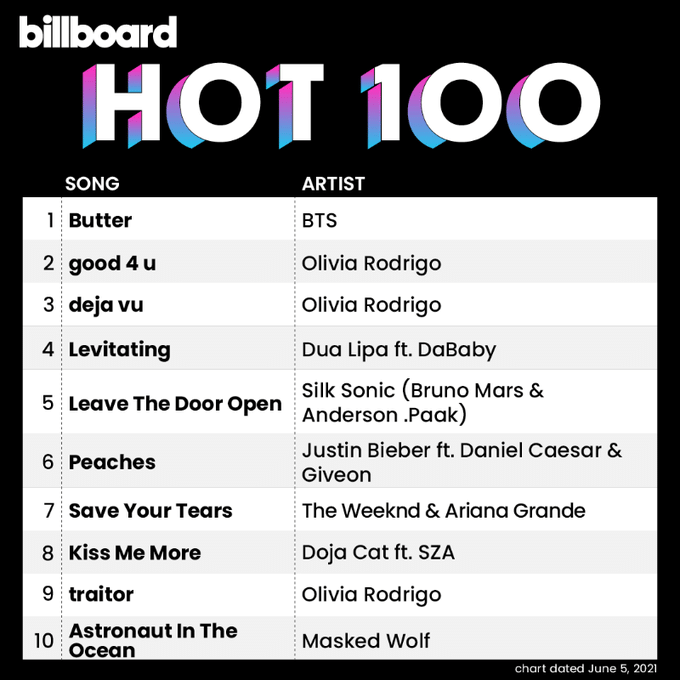 The Real BTS Dinner Party, 2022
Do you have any favorite BTS FESTA moments?
Tell us in the comments below!
About Author